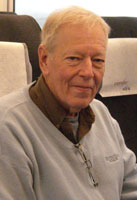 We are sad to report that Jay Brunhouse, author of the column "All Aboard!," died in September 2010. Jay specialized in writing about train travel, and his was the longest-running column in ITN, having appeared in issues from May 1981 to October 2010.
An Active Member of the Society of American Travel Writers since 1986, Jay was the author of two books, "Traveling the Eurail Express" (the sixth edition was published in 2004) and "The Maverick Guide to Berlin" (the third edition was released in February 2008), both published by Pelican.
His articles on train travel in Europe had been featured in most of the large-circulation Sunday travel sections: New York Times, Newsday, Los Angeles Times, Chicago Tribune, Boston Globe, Boston Herald, Toronto Globe & Mail, Toronto Star, San Diego Union, San Francisco Chronicle & Examiner, San Jose Mercury News, San Antonio Express News, New Orleans Times-Picayune, Buffalo News, Miami Herald, Arkansas Press-Democrat, Denver Post, Los Angeles Daily Breeze and Vancouver Sun.
His train-publicity stories appeared in many magazines as well, including National Geographic Traveler (US and China editions) and Vanity Fair.
Jay was awarded the Lowell Thomas Gold medal for the Best Land Travel Article, one publicizing the Al Andalus Expreso in Spain.
Regarding his background, Jay graduated from the University of California, Berkeley, receiving a Bachelor of Science degree in engineering, and added an Associate of Arts degree in travel at West Los Angeles College. He began his travel-writing career while working for three years in Switzerland as a Guest Scientist. He eventually settled in San Francisco, California.