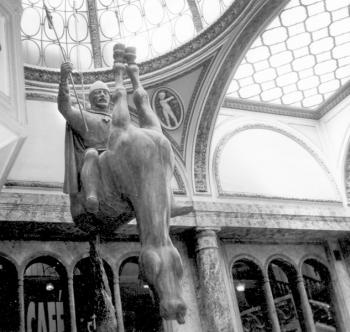 A horse! A horse! My kingdom for. . .
Eighteen readers correctly identified the location of the strange equestrian statue pictured in our February issue.
The sculpture, "Object" by David Cerny, is suspended in the Lucerne Passage off Wenceslas Square in Prague, Czech Republic. (Readers who had seen the sculpture outside the passage prior to its installation were counted as having right answers.)
The winner of the drawing was BILL LANE of Golden, Colorado. Thanks go to Margo Wilson of Scottsdale, Arizona, for submitting the photo.
---