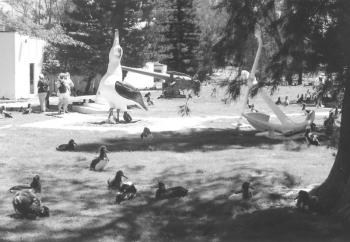 How'd you like one of
these
hanging around your neck?!
May's photo depicts the 12-foot-tall mahogany albatross (aka gooney bird) carved by Lt. Cmdr. Robert C. Cook during his tour of Midway. The gooney bird is next to the Battle Memorial on Sand Island, Midway Atoll.
Twenty-four of our readers guessed "Midway," but only four pinpointed the specific island. (Details count for Where in the World?!) The winner of the drawing is CHARLES E. ALEXANDER (retired U.S. Navy Medical Corp) of Oxford, Pennsylvania. We thank Evelyn S. Burge of Ventura, California, for sending in the photo.
---