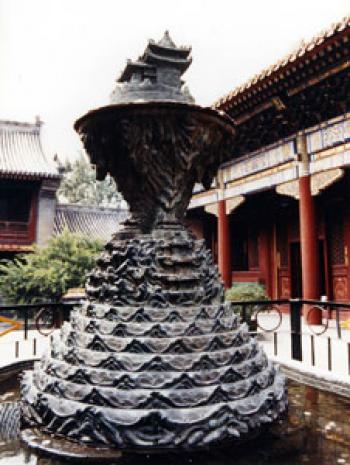 Not a lot of room at the top! The piece shown in June's photo, "Mount Sumeru," is a depiction of the Buddhist afterlife.
The 1.5-meter-high, bronze, Ming Dynasty statue stands in front of the Yonghegong (Hall of Harmony and Peace), one of the five halls comprising the Yonghe Temple (aka the Lama Temple) in Beijing, China.
As legend has it, at the very top of Mount Sumeru is paradise, where those who have achieved nirvana dwell.
Beneath that are the realms for mankind and the heavenly kings, while at the bottom, below the sea waves, "evil spirits, devils and criminals abide in hell."
One reader sent in the correct answer by the deadline, so JOE ROBERSON of Opelika, Alabama, is the winner. We thank Dave Bruels of Seattle, Washington, for contributing the photo.
---