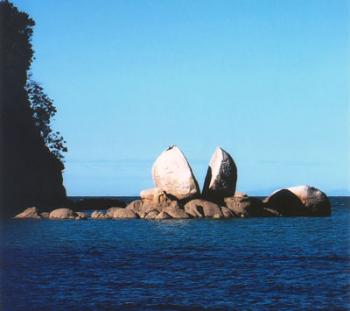 Two gods of Maori legend were fighting over the possession of a large boulder. To settle the matter, they used their godlike strength to break it in half. That's the origin story of the subject of January's photo, Split Apple Rock, just off of Kaiteriteri Beach in Abel Tasman National Park, South Island, New Zealand.
(An alternate theory, suggested by geologists, is that water seeped into a crack in the rock during an ice age and froze, expanding in volume and splitting the stone. But that's not as much fun, is it?).
Fifty-six readers sent in correct answers by the deadline, and FRED LOKAY of Williamsburg, Virginia, won the drawing. We thank Rosemary McDaniel of Trenton, Florida, for sending in the photo.
---