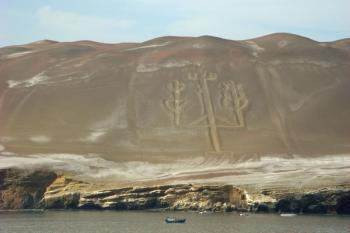 Can a giant Liberace be far behind?
May's photo depicts the Paracas Candelabra, a 595-foot-long geoglyph cut into the soil of the Paracas Peninsula at Pisco Bay, Peru. It's believed to have been made by the Paracas people in about 200 BC. Although the Spanish explorers who "discovered" it called it a candelabra, it is more likely meant to be a trident or lightning rod wielded by the god Viracocha — but no one knows for sure. The giant glyph is visible to ships as far as 12 miles out to sea.
Seventy-four readers sent in the correct answer by the deadline, and MARY HESS of Wakefield, Rhode Island, won the drawing. We thank Gunter and Ginny Arndt of Solomons, Maryland, for contributing the photo.
Correct answers were sent in by:
Russell Adams, Reading, PA; Ronnie Allen, Bala Cynwyd, PA; Ivan Applebaum, Maitland, FL; Gary & Lajetta Atwood, Burien, WA; Rob Becker, Medford, NJ; Russ Benton, Due West, SC; Marie Beretta, Haines City, FL; Janet Brenneman, Billings, MT; Roberta Bragan, Enfiled, CT; Jerry Briney, Peoria, AZ; Severon Buccatia, Sacramento, CA; Pat Bunyard, Cambria, CA; Jerry Carre, Mobile, AL; Butch Carter, Santa Ysabel, CA; Carolyn Casperson, Banning, CA; Warren Cotton, Oceanside, CA; Ida Cuthbertson, Sarasota, FL; Charles Davant; Eric and Jackie Davenport; Joan DeRycke, Riverside, IL; Catherine Donohue, Anchorage, AK; Ellen Dublo, Strongsville, OH; Terrel Emmons, Springfield, VA; Marty Anne Ernzen, Wichita, KS; Burt Falke, Baltimore, MD; Willie Kate Friar, Lafayette, CO; Laurie Friedman, Davis, CA; Betty Godwin, Cairo, GA; Dora Gropp, Anchorage, AK; Signe Haugen, San Carlos, CA;
WINNER:
Mary Hess, Wakefield, RI; Leonora Hightman, San Diego, CA; Magali Hinojosa, Lareso, TX; Jane and Clyde Holt, Hinesburg, VT; Samuel Hochman, Fort Lauderdale, FL; Conrad & Alice Houge, South Colby, WA; Jeanne Isaacman, Jenkintown, PA; Steve Jeffries, Centennial, CO; Judi Just, Lompoc, CA; Jack Kaufman, Lake Quivira, KS; Fred Koehler, Orange, CA; Katie Koloboff, Orinda, CA; Roy and Martha Lance, Fullerton, CA; Anne Lesnet, Muscatine, IA; Sylvia Levi, Studio City, CA; William Matson, Apopka, FL; Ron Merlo, Glendale, CA; Kate McIntyre, Sherman Oaks, CA; Sharyn and Bert Model, Summit, NJ; Martha Jo Morehouse, Glendale, CA; Tama Nathan, Shreveport, LA; Joan Offerle, Austin, TX; Betty Pex, Belmont, CA; Edward Pinsky, Montrose, NY; Betty Planeta, Hallandale Beach, FL; Raymond Prince, Maple Valley, WA; Rocky Roland, Bastrop, TX; Stephen Saks, Pikesville, MD; Larry Sanchez; Gene Schloemer, Reno, NV; Regine Schumacher, Seal Beach, CA; Myra Slusser, Sand Springs, OK; Barry & Karen Still, Coeur d'alene, ID; James Thompson, Charlotte, NC; Carolyn Tyssen, Clifton, TX; Richard Walker, La Jolla, CA; Chuck Wallach, Springfield, NJ; Karen Warburg, Seaside, CA; John Wasser, New Port Richey, FL; Lois Welch, Richmond, KY; Lewis Whitaker, Wilton, CT; Claire Wilson, Los Gatos, CA; Wilma Wright, Penn Laird, VA, and Mark Zizzamia, Johns Island, SC.
---