The Coffee Triangle
By Randy Keck
This item appears on page 63 of the June 2013 issue.
(Part 2 of 3 on Colombia)
For the second portion of our February 2013 Colombian adventure, "Colombia's Colonial Jewels & the Coffee Triangle," in which I was hosted by Overseas Adventure Travel, our group traveled by air from Medellín to Pereira via Bogotá.
Pereira is one of the three legs of the Coffee Triangle, along with the cities Manizales and Armenia. On our final descent, viewing the coffee plantations below — a veritable sea of greenery — served to heighten my excitement.
I must confess to being a coffee aficionado, and I have been privileged in my travels to visit many of the planet's prime coffee-producing regions. This felt different, as we were about to arrive at the mecca of the coffee world, and I was secretly hoping that Juan Valdez, himself, might be there to greet us.
This area boasts many visitor attractions, however, so coffee would have to wait its turn, as our first visit was to a ranch that raises and trains Colombian Creole horses. As part of our local horse-culture education, we were treated to a fascinating demonstration of traditional Colombian trotting and galloping styles.
Hacienda San Jose
Our historic hacienda lodging in Pereira, Hacienda San Jose, was particularly appealing with its Spanish-colonial style of architecture, including a fountain that dates to 1737.
While the evening meals and service were excellent, I especially enjoyed breakfast poolside on the flower-laden open-air veranda, with bird-song accompaniment. Coming "home" to the hacienda after our touring days was indeed a pleasure.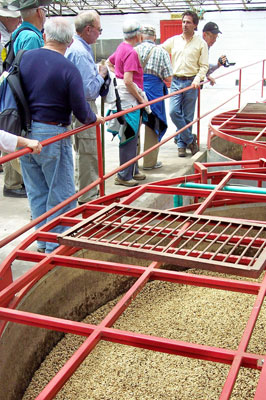 Additionally, and with help from Percy, an extra OAT guide traveling with us, I was able to harvest — from the prolific bamboo stands bordering the hacienda — 10 hiking poles for our group's final-day mountain-hiking excursion.
Hacienda Venecia
Our coffee-culture immersion at the Hacienda Venecia coffee plantation outside of Manizales was, for me, a major highlight of our 12-day Colombian adventure. There, at an elevation of 4,500 feet and with a year-round spring-like climate and rich volcanic soil, conditions are perfect for coffee plants.
We began with a classroom presentation by our host, Juan, which included a detailed global history of coffee culture and production. Coffee's origin was in Ethiopia, from where it spread regionally and then eventually to the New World. We learned that, worldwide, coffee tends to be grown within five degrees of the equator at elevations ranging from 3,000 to 6,500 feet.
We were educated regarding the different types of beans and grades of coffee and informed that since Colombia and many other producer countries export all of the best-quality coffee they cultivate, it can be a challenge to get a cup of the good stuff in the country where it is actually grown.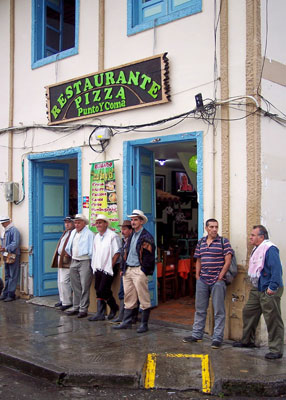 Fortunately, we were privy to both sampling and being able to purchase export-quality product at Hacienda Venecia and a few other locations during our journey.
Our plantation tour included viewing the bean-sorting process and taking a guided walk through the rows of coffee plants. After a particularly good meal featuring traditional Colombian cuisine, we lounged on the open-air veranda and engaged in some rewarding English/Spanish exchanges with the children of hacienda managers and workers.
My afternoon fate at the plantation was to be settled, all too comfortably, in a hammock, cappuccino in hand. Soothed by the murmur of a gently rushing brook far below, entranced by the idyllic tropical surrounds, I mused, "Somebody actually gets to live here."
Salento, and Cocora Valley
On our final day in the triangle the heavens opened bountifully, as if to remind us that, indeed, Mother Nature is in control. Dutifully humbled, we journeyed to Salento, a quaint, 19th-century village nestled on a plateau overlooking the Rio Quindío.
Salento is known for its coffeehouses featuring "barista artists," who have mastered "latte art" — the painting of symbols, particularly astrological signs and faces — in the delicate coffee foam. The bonus was that after viewing this creative art in a cup, we were able to enjoy drinking it.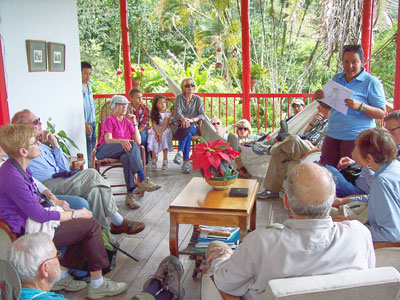 We next divided into mini-groups and boarded Jeep Willys vehicles (several were restored WWII Willys originals) for the uphill wind through Cocora Valley to Los Nevados National Nature Park.
There, a hiking excursion up to an elevation of about 7,800 feet provided sweeping views of the rolling hills dotted with Colombia's national tree, the majestic wax palm. Growing to heights up to 250 feet, the slow-growing wax palm is the world's tallest species of palm as well as the palm that grows at the highest altitude. Fortunately, it is fully protected.
It rained during most of our hike, and our bamboo hiking poles proved helpful in the slippery conditions.
Later, we participated in a ceremony of planting and blessing wax palm seedlings in the tradition of the local Quimbaya people.
Returning to Salento, we enjoyed free time for exploring and craft shopping before returning to the hacienda for our final evening in the Coffee Tiangle. In the morning we were bound for the Caribbean coast and colonial Cartagena, on which I shall report next month.
For information on this Colombia program and other small-group tours around the globe, contact Overseas Adventure Travel (One Mifflin Place, Ste. 400, Cambridge, MA 02138; 800/955-1925).
Keck's Beyond the Garden Wall
❝History, science, commodity, art, idiom
owing their existence, all,
to the seductive temptress elixir.❞
— Randy acknowledging coffee's impacting journey