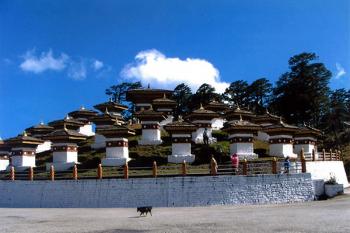 September's photo depicts the Druk Wangyal Khangzang at Dochula Pass in Bhutan, 30 kilometers northeast of the capital, Thimphu.
In 2003, Assamite separatists from India set up military operations within Bhutan's borders. The usually peaceful Bhutanese raised an army 7,000 strong to drive the rebels back over the border. Druk Wangyal, constructed in 2004, honors the souls of those who died. It comprises a main
chorten
and some of the surrounding 108 smaller chortens. (A chorten is a religious structure commemorating an event or person or which acts as protection for a place. 108 is one of the holy numbers in Buddhism.)
Reader Gloria Helmuth of Tulsa, Oklahoma, saw the memorial with a guide who had fought in the battle.
Eighty-seven correct answers were sent in, and GEORGE W. HOBGOOD of Austin, Texas, won the drawing. We thank Keith D. Jackson of Parksville, British Columbia, Canada, for contributing the photo.
Correct answers were sent in by:
Mr. & Mrs. D. Adolphson, Walnut Creek, CA; Ronald Arrants, Benicia, CA; Gary & Lajetta Atwood, Burien, WA; V. Ruth Barnes, Merritt Island, FL; Gerald Becker, Calabasas, CA; Mrs. Peter Beuret, Santa Barbara, CA; Fritz Beyerlein, Sunnyvale, CA; Rita Bocher, Wynnewood, PA; Paul Braeckmans, San Gabriel, CA; Betty Breed, Ft. Lauderdale, FL; Marie Brown, Baldwin, NY; Steven Buchwalter, West Orange, NJ; Mary Bush, Hillsboro, OR; Ron Calderoni, Boucherville, Quebec, Canada; V. Joan Campbell, Reynoldsburg, OH; Julie Cassen, Charlotte, NC; Phyllis Christenson, Monument, CO; Lydia Clement, Las Vegas, NV; Deborah Conklin, Cedar Rapids, IA; Irving Dayton, Corvallis, OR; Beverly De Graaf, Morristown, NJ; Linda Devlin, Waterbury, VT; Donn Duling, Omaha, NE; Edwin Tobias Earl, Laguna Beach, CA; Betty Edmonson, Tucson, AZ; Alvin Faierman, Del Mar, CA; Bruce Fink, Londonderry, NH; Julie Fisher, Sacramento, CA; Ione Fujio, Honolulu, HI; Helen Gigliotti, Sanger, CA; Don Gillies, Santa Barbara, CA; Russell Gluck, Franklin Lakes, NJ; Kenneth Gould, Clearwater Beach, FL; Dora Gropp, Anchorage, AK; Susan Hart, Delmar, NY; Gloria Helmuth, Tulsa, OK; Iris Herrin, St. Augustine, FL;
WINNER:
George Hobgood, Austin, TX; Carol Hodgson, De Pere, WI; Linda Huetinck, Alhambra, CA; Doranne Jacobson, Springfield, IL; Kathleen Jensen, Alameda, CA; Marilyn Jestes, Roulette, PA; J. Christine Johnson, San Ramon, CA; Judie Johnson, Grand Marais, MN; Sabine Joyce, Harwood, MD; Arno Lauterbach, San Jose, CA; David Ligerman, Miami, FL; Sandra Lovell, Cambridge, MA; Helen Maguire, Great Falls, MT; Clark Masters, Westborough, MA; Rosemary McDaniel, Trenton, FL; Barbara McIntosh, Roseville, CA; Josephine Moore, New Windsor, NY; Bonnie Neel, Springfield, VA; Michael Newman, Los Angeles, CA; Dave Netzer, West Barnstable, MA; Mark Paine, North Salem, NY; Marisol Pelaez-Leong, Brooklyn, NY; Joel Pollack, Denver, CO; Beth Powell; Judi Purcell, Pensacola Beach, FL; Vicki Reed, San Diego, CA; Wanda Ross, Cupertino, CA; Larry Sanchez, La Mesa, CA; Phyllis Schlesinger, New York, NY; Cindy Shurtleff, Seattle, WA; Jeanne Smith, Irvine, CA; Francine Sterle, Iron, MN; Phyllis & David Stolls, Riverside, CA; Jill Sullivan, Waynesboro, VA; Charlotte Temple; Diana Thomson; Susan Tittle, Palos Verdes Estates, CA; Peg Tredennick, Littleton, CO; Robert Turk, Dayton, OH; Alice Tucker, Honolulu, HI; Mary Turney, WY; Charles Twine, Durham, NC; Kathryn Verwillow, Palo Alto, CA; Richard Walker, La Jolla, CA; Gail Wang, Troy, MI; Yvette Wigman-Childers, Honolulu, HI; Mark Wilkins, Sedro Woolley, WA; Wendy Windebank, Pacific Palisades, CA; and Sandra Winter, San Diego, CA.
---