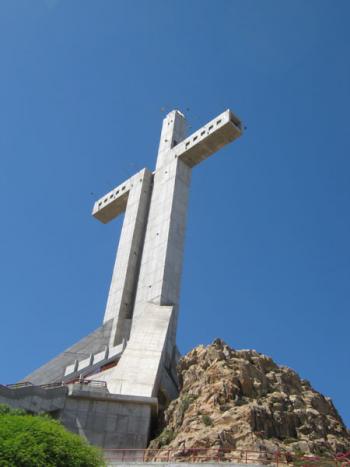 October's photo shows the Cruz del Tercer Milenio, or Cross of the Third Millennium, in Coquimbo, Chile, a monument erected to commemorate the Catholic Church's Great Jubilee, in 2000, in recognition of the beginning of the third millennium following the birth of Christ.
Erected at the summit of Cerro el Vigia (Lookout Hill) at 197 meters (646 feet) above sea level, the cross consists of three columns emerging from an equilateral triangle, representing the Holy Trinity. It also has a high-tech bell tower, life-size bronze sculptures of the Stations of the Cross, a large chapel and a replica of Michelangelo's "Pietà."
Standing 83 meters (272 feet) tall, the cross is the tallest monument in South America. The arms of the cross stretch 40 meters wide, and windows allow a 360-degree panoramic view of the city, bay and Pacific Ocean. Visitors can reach the windows by elevator or stairs in the structure's central column.
Nine correct answers were submitted, and BRIAN WEAVER of Burlington, Kentucky, won the drawing. We thank Jack W. Dini of Livermore, California, for contributing the photo.
Correct answers were sent in by:
Cynthia Bauzon, Rockville, MD; Terrell Emmons, Springfield, VA; Signe Haugen, San Carlos, CA; John & Eileen Leach, Hickory, NC; Phil Lutzi, St. Pete Beach, FL; Charles Rhine, Greeley, CO; Maureen Rompasky, Kula, HI; Charles Twine, Durham, NC;
WINNER:
Brian Weaver, Burlington, KY.
---