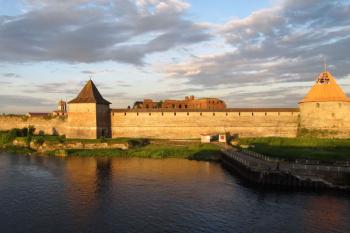 The subject of March's photo is Shlisselburg Fortress, located by Lake Ladoga near the head of the Neva River in northwestern Russia.
There's been a fortification on the site of Shlisselburg for 800 years. Possession of the site ping-ponged between Sweden and the Novogorod Republic for centuries until Peter the Great of Russia "won" the battle for it in 1702. (Russia lost 6,000 men and Sweden, 110, but Russia got the fortress.) Today Shlissleburg is home to the Museum of Political Prisoners of the Russian Empire.
Four readers sent in the correct answer, and MAUREEN PATRICK of Margate, Florida, won the drawing. We thank Wanda Bahde of Summerfield, Florida, for sending in the photo.
---