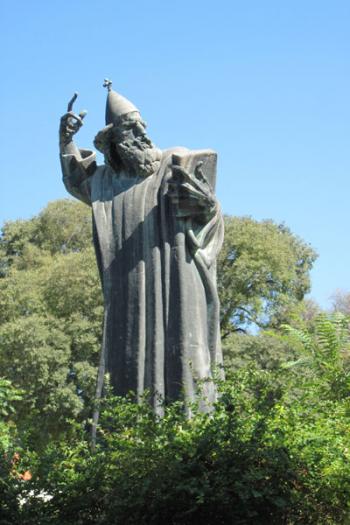 This statue of Gregory of Nin (Grgur Ninski in Croatian), a medieval bishop from Croatia who strongly opposed the Pope, stands just outside the Golden Gate of Diocletian's Palace in Split, Croatia. (The palace was built by a Roman emperor in the fourth century.)
Bishop Gregory introduced the national Croatian language into Catholic services in Croatia after the Great Assembly in AD 926, finally making it possible for
everyone
to know what was being said. Prior to that, services had been held only in Latin, which few people understood. As a result, Christianity grew stronger within the Croatian kingdom.
Sculptor Ivan Meštrović created the 20-foot-tall statue in 1929 in commemoration of 1,000 years having passed since Croatian was first spoken in religious services. Because of the popular belief that rubbing the bishop's toe brings good luck, the toe is now smooth and shiny. (Two smaller statues of the same bishop, with slightly different poses, also exist, one in Varaždin, the other in Nin.)
Sixty-four people correctly identified the location of the photo, and ROBIN ILARDI of Morgantown, West Virginia, won the drawing. We thank Wanda Bahde of Summerfield, Florida, for submitting the photo.
Correct answers were submitted by:
Herbert E. Allen, Bala Cynwyd, PA; Diane Baker, Corona del Mar, CA; Gerald M. Bishop, Merrillville, IN; Dorothy Bohan, Webster City, IA; James Brenneman, Grand Junction, CO; Patricia Bunyard, Cambria, CA; Diana Butler, El Sobrante, CA; Ida M. Cartwright, Grass Valley, CA; Julie Cassen, Charlotte, NC; Tamara Compton, Bellingham, WA; Eric J. Dalton, New Hudson, MI; Tuvshin Dashtseren, South Miami, FL; Marilou Dillehay, Stonewall, LA; Carol Eggers, Lake Forest, CA; David Fetyko, Stow, OH; Lucille Fjoslien, San Francisco, CA; Bill Flounders, Santa Fe, NM; Janice Gay, Vero Beach, FL; Margie Gerhardt, Lancaster, PA; Gerald & Sylvie Gould, Cumming, GA; Ada Green, New York, NY; Thomas Griffith, Vancouver, WA; George Guma, Vienna, VA; Ed Hall, Calera, AL; Kathleen Harrington, Stanwood, IA; Signe Haugen, San Carlos, CA; Allan S. Hodgson, Lakeway, TX; Libby Hollombe, Sherman Oaks, CA; Jane & Clyde Holt, Hinesburg, VT;
WINNER:
Robin Ilardi, Morgantown, WV; Leslie Jamison, Wilmington, DE; Chris Johnson, San Ramon, CA; Karyn Kandell, Kyoto, Japan; Len Kaufman, Merrick, NY; Kathy Kostrub, Landisville, PA; Sylvia Levi, Studio City, CA; Alan Levitan, Morristown, NJ; Jeremy Loeckler, Boston, MA; Loree Marcantonio, Vancouver, B.C., Canada; Bob McCarron, Cuyahoga Falls, OH; Sandra Spitzer McKelvey, Abington, PA; Eve Melton, Palo Alto, CA; Sherri Morgan, Denver, CO; Ira Nathan, Shreveport, LA; Ron Oakham, Tucson, AZ; David J. Patten, St. Petersburg, FL; Arne Pedersen, Little Silver, NJ; Donna Peterson, Patch Grove, WI; Beth Powell, Eureka, CA; Raymond Prince, Maple Valley, CA; Meda Rebecca, Sacramento, CA; Jennifer Rowe, Aurora, CO; Mona Sage, Ponca City, OK; Jean Savage, San Juan Capistrano, CA; Kay Stevens, Santa Barbara, CA; Claire Troop, Wernersville, PA; Kathleen Vieth, Thousand Oaks, CA; Laurel Webb, Chandler, AZ; Jan Wigen, Spokane, WA; Kathy Wilhelm, Cary, NC; Linda Williams, Boise, ID; Margo Wilson, Scottsdale, AZ; Robert C. Wilson, Indian Head, MD; Roberta Wilson, Concord, CA.
---