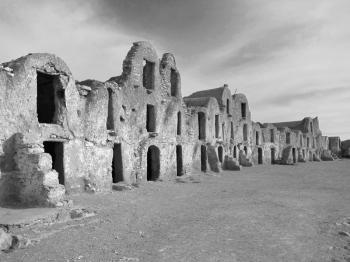 In May 1999, the structure pictured in the January 2015 issue suddenly became famous when that year's "Star Wars" movie hit the theaters, as several scenes had been filmed there. The mud-and-stone structure is a
ksar
, and it's located in Medenine in southeastern Tunisia.
The doorways of the ksar open into vaulted rooms known as
ghorfas
, once used by Berbers to store large amounts of grain. The multistory ksar also served as a fortification against attacks.
With slight variations in appearance, there are ksars in several locations in southern Tunisia, including Ksar Hadada and Ksar Ouled Soltane near Tataouine, making it a little tricky to guess which one was pictured here. Four correct answers were submitted, and ALBERT SIMONSON, of Santa Ysabel, California, won the drawing.
We thank Robin Ilardi of Morgantown, West Virginia, for submitting the photo.
Correct answers were submitted by:
Signe Haugen, San Carlos, CA; Bob Loveland, Gainesville, GA; Raymond Prince, Maple Valley, WA;
WINNER:
Albert Simonson, Santa Ysabel, CA.
---