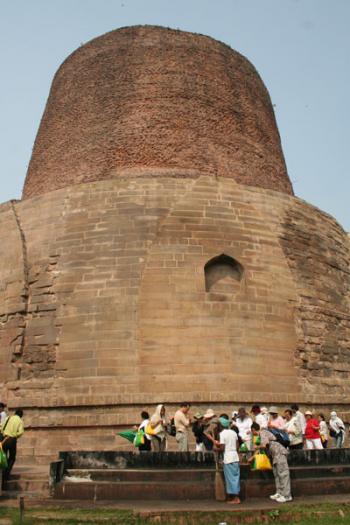 The brick stupa was built in AD 500, replacing another structure that had been commissioned by Mauryan King Ashoka 750 years earlier in 249 BC. According to at least one historical account recorded in AD 640, the Dhamek Stupa stood almost 300 feet tall at that time.
When Wanda Bahde of Summerfield, Florida, submitted the photo, she noted that she had "watched pilgrims circumambulate the stupa while a monk chanted and concluded with prayers."
Thirty correct answers were submitted, and GEORGE GIANOPULOS of Fresno, California, won the drawing.
Correct answers were submitted by:
James Adams, Los Osos, CA; Herbert E. Allen, Newark, DE; Jill Athey, St. Petersburg, FL; Anne E. (Betty) Atwater, Tucson, AZ; Shirley Becker, Skokie, IL; James Bradshaw, Aiken, SC; Cathy Briner, Eugene, OR; Günther Eichhorn, New York, NY; Larry & Judy Emmons, Grass Valley, CA; Femi Faminu, Los Angeles, CA;
WINNER:
George Gianopulos, Fresno, CA; Ben Glick, Williamstown, MA; Mr. & Mrs. Gerald Gould, Cumming, GA; Robert Hammersmith, Bethlehem, PA; Signe Haugen, San Carlos, CA; Jane & Clyde Holt, Hinesburg, VT; Judie Johnson, Grand Marais, MN; Mary Kelly, Baton Rouge, LA; George C. Kingston, East Longmeadow, MA; Sarah Kirtland, New York, NY; Robert Kowalczyk, North Dartmouth, MA; Theodore Liebersfeld, Boynton Beach, FL; R.A. McQueen, Florence, SC; Margaret Norman, Gurnee, IL; Raymond Prince, Maple Valley, WA; Fran Rota, Brookline, MA; Werner Schuele, Sarasota, FL; Regine Schumacher, Seal Beach, CA ; Jill Sullivan, Waynesboro, VA; Eleonore Van den Berghe, Phoenix, AZ.
---