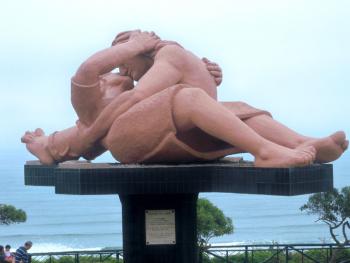 "El Beso" ("The Kiss") is the name of the bigger-than-life sculpture shown in the May 2015 mystery photo.
Overlooking the Pacific Ocean, it is located in the Parque del Amor in the Miraflores district of Lima, Peru. The figures in the statue are said to be of the artist, native Peruvian Victor Delfín, and his wife.
"El Beso" was unveiled on Valentine's Day in 1993 during the park's inauguration. Now it is the site of an annual kissing contest. Delfín's artwork includes metal sculptures, paintings and tapestries. Fifty years after establishing his studio in the seaside district of Barranco, Peru, the 87-year-old artist is still producing art.
ITN received a whopping 142 correct answers, and ROBERT FILMAN of Menlo Park, California, won the drawing. We thank Gunter and Ginny Arndt of Solomons, Maryland, for submitting the photo.
Correct answers were submitted by:
Carol Alabaster, Phoenix, AZ; Richard Alvernaz, Lakeside, CA; Stuart Anderson, Montville, NJ; Lisa Anway, Pebble Beach, CA; Nanci Alexander, Lexington, KY; Deepak Awasthi, Destrehan, LA; Victor Becker, Skokie, IL; Dawn Belcourt, Lakeland, FL; Bobbi Benson, Burlingame, CA; Russell E. Benton, Due West, SC; Charles J. & Yvonne Bishop, Poulsbo, WA; Dorothy Bohan, Webster City, IA; Bob Bowes, Cleveland Heights, OH; Lucyna Boyle, Mesa, AZ; Flora Breidenbach, Elmwood Park, IL; Bonnie Brenner, West Bloomfield, MI; Nelson Burack, Melville, NY; Edward Burns, Cincinnati, OH; Janice Buxton, Huntington Beach, CA; Richard Caetano, San Diego, CA; Trisha Calderon, Staten Island, NY; Linda J. Crist, Reeds Spring, MO; Bruce N. Croft, Henderson, NV; Pat Dalum, Marshfield, WI; Dave & Dita Davis, San Francisco, CA; Edmund Deaton, San Diego, CA; Thomas DeClaire, Webster, NY; Marlene F. Demery, Santa Rosa, CA; Charlene Doll, Anna Maria, FL; Catherine Donahue, Anchorage, AK; Karen Doolittle, Endicott, NY; Charles Driskell, Los Angeles, CA; Ellen Dublo, Strongsville, OH; Cathy Dunlap, Salina, KS; Carole Duree-Jones, Salem, OR; Edwin Tobias Earl, Laguna Beach, CA; Carole Eastus, San Diego, CA; Richard Felak, Niskayuna, NY; Marvin Feldman, Jacksonville, FL; Pat Fickess, Fresno, CA;
WINNER:
Robert Filman, Menlo Park, CA; Lucille Fjoslien, San Francisco, CA; Richard Foltz, Emmaus, PA; Mary Lu Foreman, Shawnee, KS; Robert & DeLores Frederick, Salinas, CA; Robert Gay, Vero Beach, FL; Carrie Gillespie, Houston, TX; Stanley Gorcik, Buffalo Grove, IL; Elizabeth Halbreich, Lake Worth, FL; Susan Hamilton, Boulder, CO; Kathy Hatfield, Montvale, NJ; Signe Haugen, San Carlos, CA; Maxine Hesse, Encinitas, CA; Samuel Leon Hochman, Fort Lauderdale, FL; Frank Hockett, St. Charles, MO; Dianne M. Hoff, Federal Way, WA; Chris Hoffman, Charleston, SC; Jane & Clyde Holt, Hinesburg, VT; Conrad L. Houge, South Colby, WA; Burl Hull, Greensboro, NC; Mikel Hutchinson, Pacifica, CA; Kembell Huyke, Flushing, NY; Jacqueline Janesky, Tucson, AZ; Norma Jenkins, Fort Lauderdale, FL; Jerald Jensen, Santa Clara, UT; Bill Johannes, Columbus, OH; Jim Johnson, Paradise, CA; Robert Johnson, Norristown, PA; Stan C. Kimer, Raleigh, NC; George C. Kingston, East Longmeadow, MA; Beth Klob, La Junta, CO; Janice Kolbaska, Mt. Prospect, IL; George Lauscher, Pocono Summit, PA; Gale Lee, Harrisburg, NC; Claire Leifer, Dix Hills, NY; Theodore Liebersfeld, Boynton Beach, FL; Phil Lutzi, St. Pete Beach, FL; Virginia Lyttle, Morris Plains, NJ; Tom Malmoe, Renton, WA; Sondra Markman, Edison, NJ; Margo Mata, Carlsbad, CA; Mary Jane Matheny, Zolfo Springs, FL; William Matson, Apopka, FL; David Mayer, Glen Mills, PA; Robert McCarron, Cuyahoga Falls, OH; R.A. McQueen, Florence, SC; Edith Moates, Norman, OK; Milana Naddeo, Chesterbrook, PA; Mary Napier, New York, NY; Esther Niemi, Emeryville, CA; Margaret Norman, Gurnee, IL; Eric Nussbaum, Freeland, WA; James Oliver, Memphis, TN; Gary C. Olson, Herndon, VA; Sandra Osaki, Honolulu, HI; Anthony Osretkar, Frederick, MD; Patricia Ove, Aurora, CO; Daissy Owen, Iowa City, IA; Ann Panhorst, Stuart, FL; Mukesh Patel, Duluth, GA; Arne Pedersen, Little Silver, NJ; Carol Peim, Hendersonville, NC; Donna Peterson, Patch Grove, WI; Ethel Peterson, Bloomington, MN; Edward Pinsky, Montrose, NY; Raymond Prince, Maple Valley, WA; James C. Puchner, Franklin Park, IL; Charles Radanovics, Loudon, TN; Marlene Rain, Venice, FL; Cleo Reilly, Portland, OR; Diane Robbins, Penfield, NY; Cidne Rossi, Laguna Woods, CA; Alan Rubendall, Big Bear Lake, CA; Lorenz Rychner, Denver, CO; Barry & Thelma Sampson, Dryden, Ontario, Canada; Marilyn Santiago, Port Angeles, WA; Richard J. Schally, Walnut Creek, CA; Ed Schlenk, Marshalltown, IA; Andrzej Serkuczewski, Santa Clarita, CA; Bernard Sonnek, Easton, MN; Jerry Stamper, Cathedral City, CA; Carol Stremble, Larkspur, CO; Subhadra Suresh, Wyoming, OH; Edward Sylvester, Nevada City, CA; Frances Symons, San Diego, CA; Charlotte Temple, Framingham, MA; Marie-Paule Terrier, Fort Lauderdale, FL; Nancy Theis, Little Rock, AR; Dorothy Thompson, Richland Center, WI; Rolly Thompson, Eugene, OR; Donald R. Tremblay, Santa Monica, CA; Charles Trenkle, Rancho Mirage, CA; Marlene Tuthill, Tillamook, OR; Richard C. Walker, La Jolla, CA; Gail Wang, Troy, MI; Jim Weede, Quincy, IL; Dan Walker, Philadelphia, PA; Nancy Westerholm, Palm Desert, CA; Scott White, Durango, CO; Nancy Whitfield, Oneida, WI; Janet Wright, Kalamazoo, MI; John Zepecki, Morgan Hill, CA. Richard C. Walker, La Jolla, CA; Gail Wang, Troy, MI; Jim Weede, Quincy, IL; Dan Walker, Philadelphia, PA; Nancy Westerholm, Palm Desert, CA; Scott White, Durango, CO; Nancy Whitfield, Oneida, WI; Janet Wright, Kalamazoo, MI; John Zepecki, Morgan Hill, CA.
---