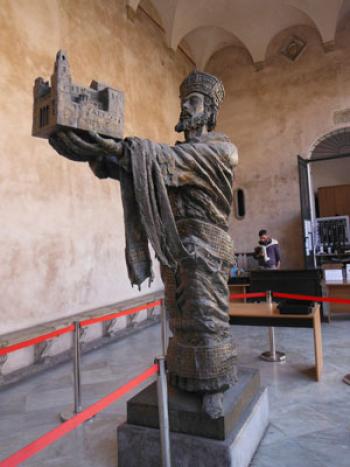 King William II of Sicily, also known as William the Good (Guglielmo il Buono), is the monarch portrayed by the statue shown in our June 2015 mystery photo. Located in the cloister of Santa Maria la Nuova, the cathedral of Monreale, on the Italian island of Sicily, the statue shows King William handing the Virgin Mary the church he built during the 12th century in the hillside town of Monreale, which, at 1,000 feet above sea level, overlooks Palermo 5 miles away.
Inside the Norman cathedral, which contains elements that show both Byzantine and Islamic influences, elaborate mosaics made with pure gold cover virtually every wall, an area of over 68,000 square feet. Artwork is also evident outside, in the mythical beasts and other whimsical designs found on the 228 double columns and fountain in the former Benedictine abbey's cloister.
Thirteen correct answers were submitted, and JILL SULLIVAN of Waynesboro, Virginia, won the drawing. We thank Linda Beuret of Santa Barbara, California, for submitting the photo.
Correct answers were submitted by:
Nicholas Anderson, Windom, MN; Sylvia George, Rockville, MD; Signe Haugen, San Carlos, CA; Jane & Clyde Holt, Hinesburg, VT; Merle Hutner, Glenview, IL; George C. Kingston, East Longmeadow, MA; Suzanne Maurice, Montréal, Quebec, Canada; Dawn Moore, Kaneohe, HI; Ira Nathan, Shreveport, LA; Donna Peterson, Patch Grove, WI; Beth Powell, Eureka, CA; Raymond Prince, Maple Valley, WA;
WINNER:
Jill Sullivan, Waynesboro, VA.
---