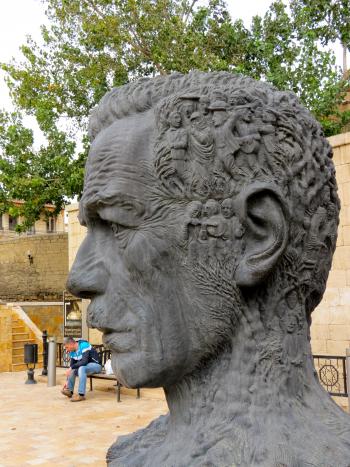 Aliaga (Aliagha) Vahid, once known as a "master of satiric poetry" in his native Azerbaijan, is the person portrayed in the August issue's mystery photo. Sculpted in 1990 by Rahib Hasanov, the approximately 10-foot-tall bronze bust stands in a small garden area of the Icheri Sheher (Inner City) section of Baku, Azerbaijan. Embedded in the hair of this unique sculpture are allegorical figures.
Aliaga Vahid was actually a pseudonym for Aliaga Isgandarov, who began writing and publishing poems in his late teens. Later, he helped translate Persian literary works into the Azerbaijani language. He died in 1965 at the age of 70. In May 2015, a 120-year anniversary celebration of Vahid's birth was held at Azerbaijan University of Languages.
Eight correct answers were submitted, and ELISABETH LaROE of Alexandria, Virginia, won the drawing. We thank Alla Campbell of Greensboro, Georgia, for submitting the photo.
Correct answers were submitted by:
Marlene Duffin, San Jose, CA; Morse (Mike) Kalt, Cary, NC; Aavo Koort, Santa Barbara, CA;
WINNER:
Elisabeth LaRoe, Alexandria, VA; Julia E. McCabe, Haverford, PA; George C. Shey, Webster City, IA; Helga Smith, New York, NY; Tim White, Friday Harbor, WA.
---