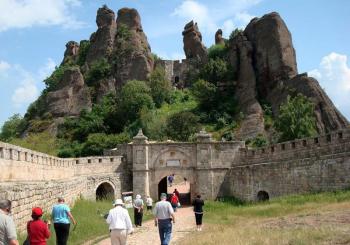 Nearly 2,000 years ago, the Romans built a fortress to help protect a road they'd built in one of their new provinces on what is now called the Balkan Peninsula. That fortress, now known as Belogradchik Fortress (sometimes called Kaleto, Turkish for "The Fortress," is the site shown in the photo in the November 2014 issue.
Located in an 18-by-2-mile area near the town of Belogradchik in Bulgaria, the stronghold is surrounded by huge rock formations that almost camouflage it. For 300 years, the Belogradchik Fortress belonged to the Byzantine Empire. It was then absorbed into the state of Bulgaria. A thousand years later the Ottomans conquered it, fortifying its walls for protection against revolts by "the locals."
Today, visitors to the fortress can see various accretions built over a span of 18 centuries.
Eighteen people correctly identified the subject or location of the photo, and DOUG CLARK of San Diego, California, won the drawing. We thank Tressie and Dick Alvernaz of Lakeside, California, for submitting the picture.
Correct answers were submitted by:
Lisa Anway, Pebble Beach, CA; Randy Busch, Kodiak, AK; Michael Christopher, Vancouver, WA;
WINNER:
Doug Clark, San Diego, CA; Carrie Gillespie, Houston, TX; Signe Haugen, San Carlos, CA; George Hayashi, Mililani, HI; Jo Ann Holland, The Villages, FL; Leslie Jamison, Wilmington, DE; Charles E. Koeble, Elm Grove, WI; Bernhard Muller, Milan, MI; Raymond Prince, Maple Valley, WA; William Raffel, Savannah, GA; Douglas Rittenhouse, Port Angeles, WA; Roy Robinson, Columbia, MO; Miyako Storch, Santa Barbara, CA; Elaine Townley, Windsor Mill, MD; Jill Sullivan, Waynesboro, VA.
---