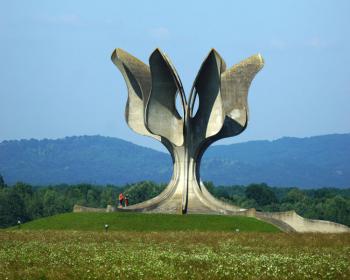 Rising from an open field in an area of eastern Croatia known as Slavonia is the structure pictured in the December 2015 issue, a 79-foot-tall monument known as the Stone Flower. It memorializes the many people who perished in the Jasenovac complex of five concentration camps during WWII. An estimated 77,000 to, possibly, several hundred thousand prisoners — the vast majority Serbs but also Jews, Roma and other non-Catholic minorities — died there at the hands of the Croatian fascist/terrorist Ustaŝa regime.
Twenty years after the end of the war, construction of the monument began on the site, located 60 miles south of Zagreb and along the Sava River. Engineer Bogdan Bogdanović said that his concrete sculpture was intended to represent "overcoming suffering and insanity." At a memorial museum nearby, a permanent exhibit opened in November 2006.
Eleven correct answers were submitted, and NICK ANDERSON of Windom, Minnesota, won the drawing. We thank Gail Riba of Wimauma, Florida, for submitting the photo.
Correct answers were submitted by the following:
WINNER:
Nick Anderson, Windom, MN; Maria Cueto, Weehawken, NJ; Loren Gardner, San Diego, CA; Signe Haugen, San Carlos, CA; Bob Havlen, Albuquerque, NM; Raymond Prince, Maple Valley, WA; Patricia Rosen, New York, NY; Ivana Skovgaard, Copenhagen, Denmark; Marilyn Stenvall, San Diego, CA; Jill Sullivan, Waynesboro, VA; Darlene Zanto, Anthem, AZ.
---