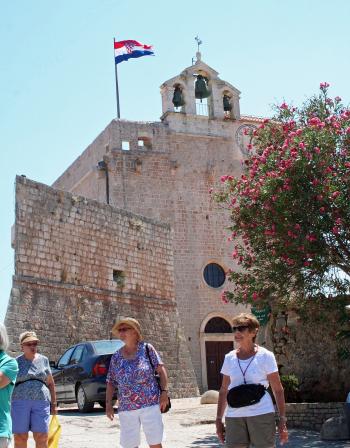 The fortress church pictured in our August 2016 mystery photo — the Church of St. Mary of Mercy (Sveta Marija) — is located in the town of Vrboska on the island of Hvar in Croatia. The original church was built over 550 years ago, but more than a century later, during the 1570s, eight years after a Turkish attack, it was rebuilt as a fortress.
Protecting the front of the church is a huge ravelin (triangular fortification). Inside the church are several works of art, in addition to numbered gravestones, some of which are decorated with coats of arms. The church is open to the public in late mornings and early evenings during tourist season and by appointment in the off-season.
Nine correct answers were submitted, and ED SCHLENK
of Marshalltown, Iowa, won the drawing. We thank Wanda Bahde of Summerfield, Florida, for submitting the photo.
Correct answers were submitted by:
Maria Cueto, Weehawken, NJ; Signe Haugen, San Carlos, CA; Jane & Clyde Holt, Hinesburg, VT; George C. Kingston, East Longmeadow, MA; Phil Lutzi, St. Pete Beach, FL; Donna Peterson, Patch Grove, WI; Raymond Prince, Maple Valley, WA;
WINNER:
Ed Schlenk, Marshalltown, IA; Mary Schmidt, Fairfax, VA.
---