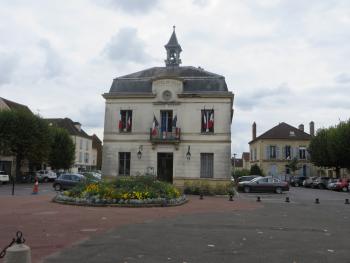 From the terrace outside his second-story room at an inn in the French town of Auvers-sur-Oise, Vincent van Gogh painted one of his final canvases: "Auvers Town Hall on 14 July 1890." The Impressionist depiction of the town hall, painted just two weeks before the artist's death, closely mirrors the image in our June mystery photo (upper left), which was taken from almost the same vantage point as the artist's (lower left).
Because van Gogh stayed in the town during the last two months of his life — and created dozens of paintings during that time — Auvers-sur-Oise has become one of France's most popular places to visit. Although other artists worked there as well, van Gogh is the one whom most people remember. He and his brother, Theo, are both buried there.
Sixteen correct answers were submitted, and ROBERT KAPLAN of Rockville, Maryland, won the drawing. We thank Skip Carpenter of Coronado, California, for submitting the photo.
Correct answers were submitted by:
John H. Brownell, Tijeras, NM; Doug Clark, San Diego, CA; Ann Cyr, Delray Beach, FL; Robert Filman, Menlo Park, CA; Libby Hollombe, Sherman Oaks, CA; Jane & Clyde Holt, Hinesburg, VT; Phil Hugill, Bethesda, MD;
WINNER
: Robert Kaplan, Rockville, MD; George C. Kingston, East Longmeadow, MA; Donna Peterson, Patch Grove, WI; Raymond Prince, Maple Valley, WA; Hugo Riffel, Rancho Palos Verdes, CA; Tad Riley, Fairfield, CA; Jean Schroeder, Redding, CT; Kay Smithson, Brevard, NC; Laura Uhrig, Meriden, CT; Steve Wolfe, Georgetown, TX.
---