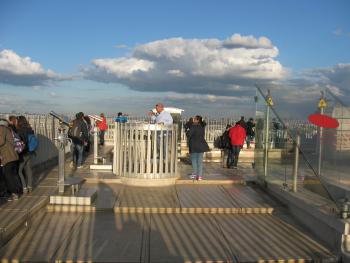 Those who make it up all 284 steps leading to the top of Paris' Arc de Triomphe are rewarded with a panoramic bird's-eye view of the city. The viewing platform at the top of the arch, as seen in our November 2016 mystery photo, is just 40 steps above a museum displaying exhibits that celebrate the arch's construction.
Tucked inside the structure's huge, 164-foot-high and 148-foot-wide arch, the museum also features scenes from Napoleon's life. Thirty years before the arch was completed in 1836, Napoleon had commissioned the building's construction in order to commemorate his victorious battles. (His inspiration is said to have been Rome's Arch of Titus, built in AD 81.)
Today, the Arc de Triomphe plays a central role in celebrations such as VE Day (May 8) and Bastille Day (July 14).
Six correct answers were submitted, and EDITH MOATES of Norman, Oklahoma, won the drawing. We thank Gene McPherson of Punta Gorda, Florida, for submitting the photo.
Correct answers were submitted by:
Richard Foltz, Emmaus, PA; Signe Haugen, San Carlos, CA; Jane & Clyde Holt, Hinesburg, VT;
WINNER:
Edith Moates, Norman, OK; Raymond Prince, Maple Valley, WA; Mary Schmidt, Fairfax, VA.
---