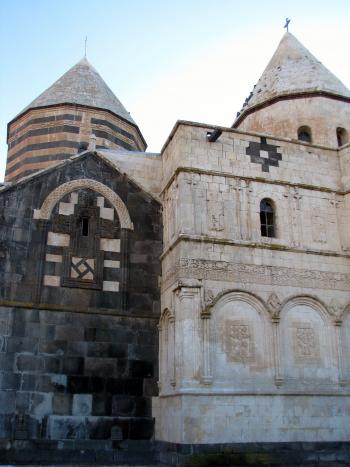 For the past 30 years, the monastery pictured in our June 2017 mystery photo — the Monastery of Saint Thaddeus — has held scheduled services only one day a year, the Feast Day of St. Thaddeus (which, according to the calendar of the Armenian Apostolic Church, usually falls in our late June or in July). Part of Armenia in ancient times, the region in which the monastery is located is now under Iranian jurisdiction.
St. Thaddeus, also known as St. Jude the Apostle, was martyred in Armenia around AD 65. A church is said to have been built on the site a few years later. Most of the present structure dates from 1811. The building earned its nickname of "the Black Church" due to the black and white stones used in its construction.
Located 10 miles from the nearest town, Maku, in northwestern Iran, the monastery was named a UNESCO Heritage Site in July 2008.
Six correct answers were submitted, and SIGNE HAUGEN of San Carlos, California, won the drawing. We thank Margaret Sonnek of Easton, Minnesota, for submitting the picture.
Correct answers were submitted by: Maria Cueto, Weehawken, NJ;
WINNER:
Signe Haugen, San Carlos, CA; Jane & Clyde Holt, Hinesburg, VT; Mary Schmidt, Fairfax, VA; Owen Trappe, Panama City, FL; Jonathan van Bilsen, Port Perry, ON, CANADA.
* Please see
clarification
regarding this article.
---