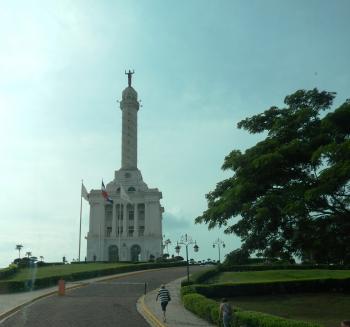 When the dictator Rafael Trujillo ordered the construction of the monument pictured in our April 2017 mystery photo, the Monument to the Heroes of the Restoration — located on a hill in the city of Santiago de los Caballeros, or simply Santiago, in the Dominican Republic — he intended the structure to honor only himself. That was in 1944. After his assassination in 1961, the country's government changed the structure's name from Trujillo's Monument to Peace; to its current name.
The heroes honored were those who fought for independence from Spain in the War of Restoration in 1863-1865. Standing about 230 feet tall, the monument is now a familiar landmark to anyone visiting the second-largest city in the Dominican Republic, the country that comprises the eastern portion of the Caribbean island of Hispaniola, the western side of which is Haiti. Inside the monument is a museum honoring the heroes, and visitors willing to climb the building's 365-step stairway are rewarded with a panoramic view of the island.
Eight correct answers were submitted, and KARYN KANDELL of Nishikyo-ku, Kyoto, Japan, won the drawing. We thank Richard Reid of Clarkston, Washington, for submitting the picture.
Correct answers were submitted by:
Michael Brandt, El Dorado Hills, CA; Signe Haugen, San Carlos, CA;
WINNER:
Karyn Kandell, Nishikyo-ku, Kyoto, Japan; Theodore Liebersfeld, Boynton Beach, FL; Carol Peim, Hendersonville, NC; Raymond Prince, Maple Valley, WA; Mary Schmidt, Fairfax, VA; Jonathan van Bilsen, Port Perry, ON, CANADA.
---