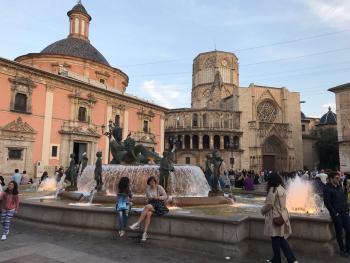 Several notable structures can be seen in the July 2017 mystery photo, all connected to the Plaza de la Virgen in Valencia, Spain.
One of these is a large fountain that contains bronze sculptures representing the Turia River. Another is the 17th-century Baroque Basilica de Nuestra Señora de los Desamparado (Our Lady of the Forsaken). The other two are Saint Mary's Cathedral (Valencia Cathedral) and the Palau (Palace) de la Generalitat, both of which have been around for several centuries.
Surrounded by history, modern cafés and outdoor terraces, the plaza remains popular among locals and visitors alike.
Sixteen correct answers were submitted, and DAWN RAINBOLT of Kevinsfort, Sligo, Ireland, won the drawing. (Dawn says she used to live in Valencia, so she recognized this place immediately.) We thank Linda Beuret of Santa Barbara, California, for submitting the picture.
Correct answers were submitted by:
Svea Breckberg, Kapolei, HI; Judith Buncher, Washington, D.C.; Ada Green, New York, NY; Signe Haugen, San Carlos, CA; Jane & Clyde Holt, Hinesburg, VT; Yvonne Lefort, Moraga, CA; Signe Haugen, San Carlos, CA; Theodore Liebersfeld, Boynton Beach, FL; Lynn Meadows, Truckee, CA; Joseph B. Newton, San Antonio, TX; Donna Peterson, Patch Grove, WI;
WINNER:
Dawn Rainbolt, Kevinsfort, Sligo, IRELAND; Mary Schmidt, Fairfax, VA; Mike Stooke, O'Fallon, IL; Charles Twine, Durham, NC; Jonathan van Bilsen, Port Perry, ON, CANADA.
---