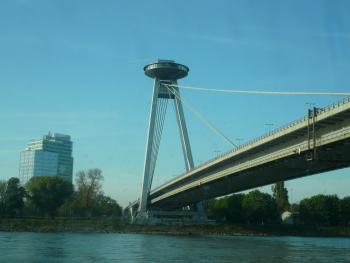 It's known as the UFO bridge, due to the flying-saucer design of its towering observation deck, but the official name of the 1,400-foot-long structure in Bratislava, capital of Slovakia, is Most Sovenského národného povstania (Bridge of the Slovak National Uprising), or Most SNP, and it was the subject of our mystery photo for March.
Under construction for five years, this cable-stayed bridge spanning the Danube was opened in August 1972. On the upper level are four lanes for motor traffic, while pedestrians and bicycles use the lower level. The observation deck houses a restaurant called
UFO
.
Some people still refer to the bridge as Nový Most (New Bridge), its official name from 1993 to 2012.
Seventy-three correct answers were submitted, and SHARON LEGGAT of Cedarhurst, New York, won the drawing.
ITN
Assistant Editor Dan Barr took the photo.
Correct answers were submitted by:
Stephen Addison, Charlotte, NC; Margaret Arthur, Kure Beach, NC; John Barnhart, Birmingham, AL; Shirley Becker, Skokie, IL; Russell E. Benton, Due West, SC; Lucyna Boyle, Mesa, AZ; John Brimhall, West Richland, WA; David Bujan, North Andover, MA; Pat Bunyard, Cambria, CA; Roy J. Caffrey, Irvine, CA; Maria Cueto, Weehawken, NJ; Erika & Joe Daileda, Torrance, CA; P.L. de la Cuesta, Redondo Beach, CA; H.H. Dibbern, Santa Cruz, CA; Jack Dini, Livermore, CA; David Durstine, Denver, CO; Donald R. Eager, San Jose, CA; Edwin "Toby" Earl, Laguna Beach, CA; Femi Faminu, Los Angeles, CA; Don Fate, Puyallup, WA; Don & Linda Florida, Sacramento, CA; George N. Gianopulos, Fresno, CA; Russell Gluck, Franklin Lakes, NJ; Kenneth Gould, Clearwater, FL; Katie Gregory, Orlando, FL; Signe Haugen, San Carlos, CA; Robert Hess, Naugatuck, CT; Jane & Clyde Holt, Hinesburg, VT; Kembell Huyke, Flushing, NY; Stephen Jeffries, Centennial, CO; Steve Jones, Fiddletown, CA; Karyn Kandell, Kyoto, Japan; Robert Kowalczyk, North Dartmouth, MA;
WINNER:
Sharon Leggat, Cedarhurst, NY; Theodore Liebersfeld, Boynton Beach, FL; Joy Lutzi, North Mankato, MN; Earl Mack, San Ramon, CA; Jacinta Maritato, Moorhead, MN; James McGee, Sun City, CA; Joyce Roberta Miller-Alper, Sugar Land, TX; Brad Mobley, Salisbury, NC; Carolyn L. Morgan, Brandon, FL; Margaret Norman, Gurnee, IL; Constance M. O'Dwyer, Millbrae, CA; Robert T. Pandolfo, Punta Gorda, FL; Steve Peck, Lake Forest, CA; Carol Peim, Hendersonville, NC; Donna Peterson, Patch Grove, WI; Raymond Prince, Maple Valley, WA; Marcia Ritter, St. Louis, MO; Mitchell Rodgers, Lexington, NC; Joe Rushton, Flagler Beach, FL; Marilyn Santiago, Port Angeles, WA; Nanci Scheithauer, Santa Fe, NM; John Scheleur, Arnold, MD; R. Schindler, Charleston, WV; Ed Schlenk, Marshalltown, IA; Mary Schmidt, Fairfax, VA; Ben Seidman, Longmont, CO; James P. Sibley, Houston, TX; Jim Simpson, Glen Mills, PA; David Smith, Bend, OR; Kay Stevens, Santa Barbara, CA; Marcia Taylor, Forestville, NY; Charles Twine, Durham, NC; Carolyn Tyssen, Clifton, TX; Ron Vlietstra, Lakeland, FL; Michael C. Wells, Vestavia, AL; Ann White, Concord, CA; Kathy Wilhelm, Cary, NC; Joseph Wolfe, Scottsdale, AZ; Victor Wyman, Santa Clara, CA; Sandra Yon, Virginia Beach, VA.
---