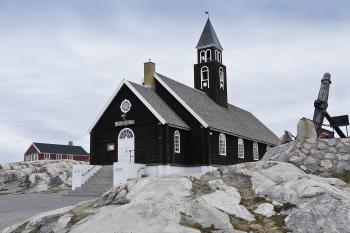 One of the northernmost churches in the world, Zions Kirke (Zion's Church), is located approximately 220 miles north of the Arctic Circle in western Greenland. The subject of our January 2017 mystery photo, the church, built in 1782 and restored in 1907, is in the town of Ilulissat, next to Disko Bay.
To cover its building costs, local residents collected dozens of whales and over 200 barrels of whale oil between 1777 and 1779. Over a century later, part of the church was turned into a hospital. In 1929, the building was moved inland and expanded.
The nearby Ilulissat Icefjord, a UNESCO World Heritage Site since 2004, is a popular spot for photographers.
Twenty-one correct answers were submitted, and PHIL LUTZI of St. Pete Beach, Florida, won the drawing. We thank Michele Burgess of Huntington Beach, California, for submitting the photo.
Correct answers were submitted by:
Nanci & Keith Alexander, Lexington, KY; Elaine Ballard, San Antonio, TX; Russell E. Benton, Due West, SC; Diana Butler, El Sobrante, CA; Warren Cash, Farmers Branch, TX; Willis Frick, San Clemente, CA; Signe Haugen, San Carlos, CA; Jane & Clyde Holt, Hinesburg, VT; Joe Huddy, Lacey, WA; Karyn Kandell, Kyoto, Japan; George C. Kingston, East Longmeadow, MA; Theodore Liebersfeld, Boynton Beach, FL;
WINNER:
Phil Lutzi, St. Pete Beach, FL; Michelle Mellen, Rancho Palos Verdes, CA; Robert Ono, Davis, CA; Raymond Prince, Maple Valley, WA; Ed Schlenk, Marshalltown, IA; Mary Schmidt, Fairfax, VA; Raeesa Sheriff, Bethesda, MD; Charles Twine, Durham, NC; Jonathan van Bilsen, Port Perry, Ontario, Canada.
---