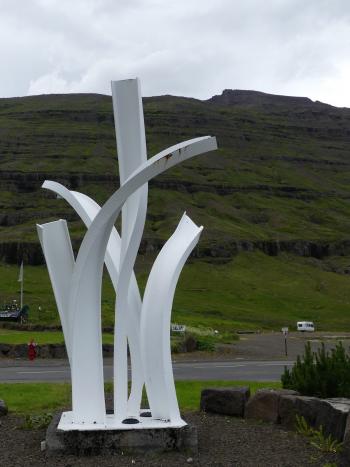 In 1885 in the town of Seyðisfjörður in eastern Iceland, an avalanche swept several homes into the fjord and killed 24 people. In 1996 in the same town, another avalanche wiped out a fish factory, leaving several of the factory's girders mangled. Luckily, no lives were lost in the 1996 event, but the twisted girders were painted white and erected to create a memorial to those who had previously died. It was named "Snjóflóð" ("Avalanche").
As the author wrote in his guidebook "Rick Steves Iceland," "Scenic as they are, the steep mountain walls around Seyðisfjörður come with a steep price: the danger of being buried by snow."
The strange sculpture was pictured in the mystery photo in our April 2018 issue. Two correct answers were submitted this month, and RAYMOND PRINCE of Maple Valley, Washington, won the drawing. We thank Linda Beuret of Santa Barbara, California, for submitting the picture.
Correct answers were submitted by:
WINNER:
Raymond Prince, Maple Valley, WA; Pam Ross, Louisville, KY.
---