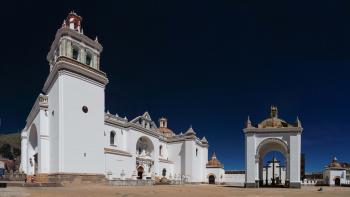 Built on the shore of Lake Titicaca, within Bolivia and near Peru, is a basilica that was built in the mid-16th century. The full name of this Spanish-colonial shrine — the subject of our January 2018 mystery photo — is the Basilica of Our Lady of Copacabana. Originally built by the Dominicans, it was first rebuilt between 1610 and 1651. The present basilica was completed in 1805.
Inside the shrine is a carefully preserved, 4-foot-tall statue of the Virgen de la Candelaria (aka Dark Virgin of the Lake), sculpted from maguey wood in 1580 by Francisco Tito Yupanqui. In April 2013, thieves stripped the statue of many of its gold and silver accessories, including the sculpture of the baby Jesus. However, the theft has not lessened the popularity of the basilica and the statue as objects of reverence.
Twenty-two correct answers were submitted, and LEE ROSATI of Williamsville, New York, won the drawing. We thank Nick Stooke of O'Fallon, Illinois, for submitting the picture.
Correct answers were submitted by:
Alla Campbell, Greensboro, GA; Edwin "Toby" Earl, Laguna Beach, CA; Russell Gluck, Franklin Lakes, NJ; Signe Haugen, San Carlos, CA; Jane & Clyde Holt, Hinesburg, VT; William C. Ives, Chapel Hill, NC; Karyn Kandell, Kyoto, Japan; Ron Lambert, Bend, OR; Dan Lundberg, North Miami, FL; Tim Meyer, Las Vegas, NV; James B. Oerding, Capay, CA; Carol Peim, Hendersonville, NC; Donna Peterson, Patch Grove WI; Raymond Prince, Maple Valley, WA;
WINNER:
Lee Rosati, Williamsville, NY; Mary Schmidt, Fairfax, VA; James P. Sibley, Houston, TX; Kay Stevens, Santa Barbara, CA; Subhadra Suresh, Wyoming, OH; Jonathan van Bilsen, Port Perry, ON, Canada; Violet White, Carmel, IN; Blake Whitehead, Fremont, CA.
---