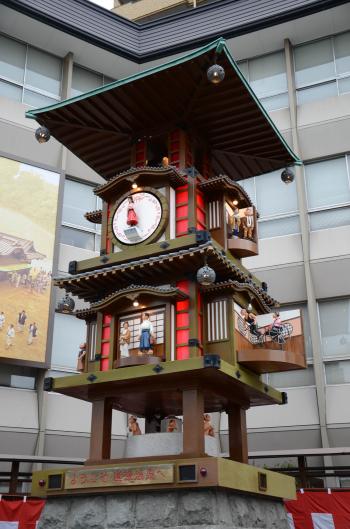 In Matsuyama in 1994, Dōgo Onsen Honkan, one of the oldest public bathhouses in Japan, celebrated its 100th anniversary. In commemoration, the Botchan Karakuri Clock (the subject of our June 2018 mystery photo) was built near the hot springs, steps away from the Dōgo Onsen tram station.
Located in the Hōjōen plaza, the clock "comes to life" each hour between 8 a.m. and 10 p.m., when mechanical figures depicting characters in the Japanese novel "Botchan," written by Natsume Sōseki, emerge to act out scenes from the story. Next to the clock is a footbath that is free to all visitors.
Starting Jan. 15, 2019, various parts of the bathhouse will be closed for renovations over several years.
Eleven correct answers were submitted this month, and KARYN KANDELL of Kyoto, Japan, won the drawing. We thank John Penisten of Hilo, Hawaii, for submitting the picture.
Correct answers were submitted by:
Maria Cueto, Weehawken, NJ; Russell Gluck, Franklin Lakes, NJ; Signe Haugen, San Carlos, CA; Jane & Clyde Holt, Hinesburg, VT;
WINNER:
Karyn Kandell, Kyoto, JAPAN; Melanie Lathen, Sebastopol, CA; David & Yoko Light, St. Louis, MO; Donna Peterson, Patch Grove, WI; Pamela Ross, Louisville, KY; Jill Sullivan, Waynesboro, VA; Karen Wagner, Monarch Beach, CA.
---