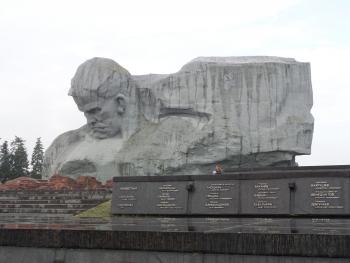 Four years after the Central Committee of the Byelorussian Communist Party gave its approval for construction to begin on the Brest Hero Fortress, the war-memorial complex was opened on Sept. 25, 1971, in Brest, Belarus. Within the complex, the main monument, "Courage," is the statue seen in our March mystery photo.
Portraying the head of a Soviet soldier with a banner behind him, the statue (cast concrete on a steel framework and hollow inside) measures 177 feet wide by 98 feet tall. Next to it is the 328-foot-tall Bayonet-Obelisk, bearing the names of those who died during the siege of Brest Fortress, in World War II's Operation Barbarossa, during the summer of 1941.
Thirty-two correct answers were submitted, and MARY SCHMIDT of Fairfax, Virginia, won the drawing. We thank Tony Leisner of Tarpon Springs, Florida, for submitting the picture.
Correct answers were submitted by:
Ronnie Allen, Bala Cynwyd, PA; Mary Attick, Lititz, PA; Rachel Bishar, Santa Barbara, CA; Larry Brown, Las Vegas, NV; Jim Carlton, Ponca City, OK; Michael Anthony Chrusciel, Riverview, MI; Tom Conner, Scottsdale, AZ; Maria Cueto, Weekawken, NJ; Sherryl Frisch, Wimauma, FL; Stanley Gorcik, Buffalo Grove, IL; Marijke Grotz, Pasadena, CA; Thomasina Gurule, Jamestown, TN; Jane & Clyde Holt, Hinesburg, VT; Stephen Jeffries, Centennial, CO; Andrea Jones, San Francisco, CA; Karyn Kandell, Kyoto, Japan; Natallia Khoshchynka, Hallandale Beach, FL; ert Kipnis, Tucker, GA; Robert Kowalczyk, North Dartmouth, MA; William Lang, Tucson, AZ; Mel McBeth, Concord, CA; Carol Peim, Hendersonville, NC; Sandra Pelletier, Capay, CA; Donna Peterson, Patch Grove, WI; Raymond Prince, Maple Valley, WA; Pam Ross, Louisville, KY;
WINNER:
Mary Schmidt, Fairfax, VA; Allan Singer, Rolling Hills Estates, CA; Helga Smith, New York, NY; James Stefan, Sarasota, FL; Charles Twine, Durham, NC; Kathryn Witmer, Bellingham, WA.
---