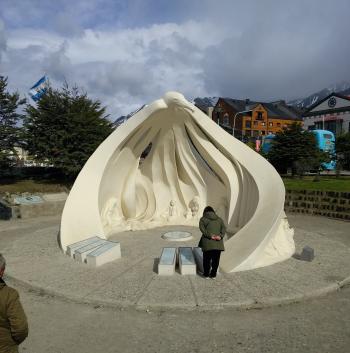 When the design for the monument pictured in our December 2018 mystery photo was chosen from five different contest entries in May 2015, it had already been "waiting 20 years to be built," according to the mayor of Ushuaia, Argentina. The design was that of local artist Antonino Pilello, and two years later, on June 21, 2017, the "Monument of Ancient People and Pioneers of Ushuaia" was formally inaugurated in the Civic Plaza in front of the city's port.
The white-stone sculpture depicts a mountainous island, with different historical events portrayed within the external and internal slopes, all enveloped by the head and wings of an albatross, a bird whose image is incorporated into the flag of Tierra del Fuego province.
Thirteen correct answers were submitted, and SIGNE HAUGEN of San Carlos, California, won the drawing.
ITN
Assistant Editor Dan Barr took the photo.
Correct answers were submitted by:
Nicholas Anderson, Windom, MN; Linda Beuret, Santa Barbara, CA; Maria Cueto, Weehawken, NJ;
WINNER:
Signe Haugen, San Carlos, CA; Walter Hinchman, Pomfret, CT; Jane & Clyde Holt, Hinesburg, VT; Karyn Kandell, Kyoto, Japan; Ann Kruse, Sammamish, WA; Phil Lutzi, St. Pete Beach, FL; Raymond Prince, Maple Valley, WA; Mary Schmidt, Fairfax, VA; Mike Stooke, O'Fallon, IL; Jill Sullivan, Waynesboro, VA.
---