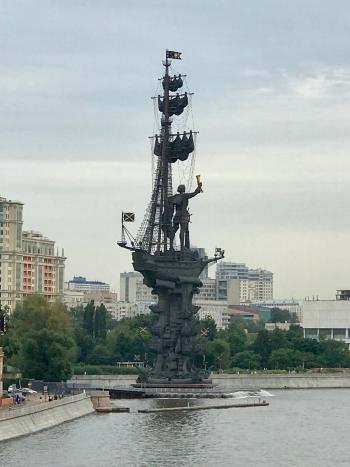 The 322-foot-tall statue pictured in our October 2018 mystery photo has an interesting history. Erected in 1997 in central Moscow, Russia, on a man-made island at the western confluence of the Moskva River and the Vodootvodny Canal, the statue commemorates 300 years of the Russian Navy, which was formed by Peter the Great in 1696.
Allegedly, the statue was originally intended to portray Columbus, in celebration of the 500th anniversary of his first voyage to the New World in 1492, but because there was a lack of interest for placing it at any site in America, the figure was declared to be a depiction of Peter the Great.
Zurab Tsereteli, a designer from the Caucasus country of Georgia, created the huge image using 600 tons of stainless steel, bronze and copper.
Seventy-five correct answers were submitted, and CATHY BRINER of Eugene, Oregon, won the drawing. We thank Fred Steinberg of New York, New York, for submitting the picture.
Correct answers were submitted by:
Stephen Addison, Charlotte, NC; Jack L. Alexander, Lamesa, TX; Nanci Alexander, Lexington, KY; Mary Ambrosio, Williamsburg, VA; Earl F. Ancell, San Dimas, CA; Ralph N. Barrett, Knoxville, TN; Victor Becker, Skokie, IL; Roger & Noella Benvenuti, Corona, CA; Rachel Bishar, Santa Barbara, CA; Lucyna Boyle, Mesa, AZ;
WINNER:
Cathy Briner, Eugene, OR; Tom Bulloch, Woodland Park, CO; Butch & Susie Carter, Santa Ysabel, CA; Marlin Causey, Marietta, GA; Michael Anthony Chrusciel, Riverview, MI; Marjorie A. Clark, Lone Tree, CO; Maria A. Cueto, Weehawken, NJ; Steve Daley, Sacramento, CA; Hans H. Dibbern, Santa Cruz, CA; Gena Doyscher, Minneapolis, MN; Willis Frick, San Clemente, CA; Janice Gay, Vero Beach, FL; Gerald Gould, Cumming, GA; Theresa Graves, Bluffton, SC; Alexander Gushansky, Encino, CA; Signe Haugen, San Carlos, CA; Mary Hayes, Chapel Hill, NC; Jane & Clyde Holt, Hinesburg, VT; Roger Jester, Tarpon Springs, FL; Andrea Jones, San Francisco, CA; Karyn Kandell, Kyoto, Japan; Mary Kelly, Baton Rouge, LA; Margaret Kilgore, Sharpsburg, GA; George C. Kingston, East Longmeadow, MA; Sarah Kirtland, New York, NY; Janice Kolbaska, Mt. Prospect, IL; Katie Koloboff, Orinda, CA; Jason Kornmueller, Lake Forest, CA; Kathy Kostrub, Landisville, PA; Carol Lafrenaye, Yorktown, VA; Janet Landfried, Redlands, CA; Mary Lao, San Francisco, CA; Mary Latham, Dallas, TX; Joan Lenard, Oviedo, FL; John Leo, Centerville, OH; Arlene Lichtenstein, Commack, NY; Earl Mack, San Ramon, CA; L.J. Mack, Huntington Beach, CA; Greg Mannion, Fountain Hills, AZ; Mary Jane Matheny, Zolfo Springs, FL; Robert McCarron, Cuyahoga Falls, OH; Mary J. McDonald, Milwaukee, WI; Michelle Mellen, Rancho Palos Verdes, CA; Charles Moody, San Francisco, CA; Al & Emily Moore, Greenville, CA; Charlotte Moser, Ballwin, MO; Ron Oakham, Tucson, AZ; Anthony Osretkar, Frederick, MD; Donna Peterson, Patch Grove, WI; Raymond Prince, Maple Valley, WA; Paula Prindle, Orient, OH; Marcia Ritter, St. Louis, MO; Pam Ross, Louisville, KY; Lyn Scanlon, Naples, FL; Mary Schmidt, Fairfax, VA; Rick Sinding, Princeton, NJ; John Stern, Los Angeles, CA; Mike Stooke, O'Fallon, IL; Rosalie Tabor, Carlsbad, CA; Bill Thames, St. Laurel, MS; Jonathan van Bilsen, Port Perry, ON, Canada; Denzil Verardo, Elk Grove, CA; Gail Wang, Troy, MI; Kathy Whitmer, Bellingham, WA; Laurie Young, Kalamazoo, MI.
---