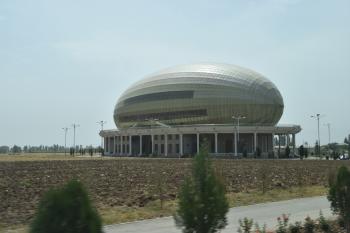 Called one of the world's most "magnificent" and "unusual" buildings when it was inaugurated in the city of Hisor on Oct. 27, 2015, Tajikistan's 2-story National Tea House is large enough to accommodate 2,000 people. Located 9 miles west of the country's capital of Dushanbe, Hisor is the capital of the Hisor District. The 141-foot-tall structure, which from a distance looks like a giant watermelon, was the image shown in our March 2018 mystery photo. Melons are an important crop in Tajikistan and the surrounding area.
Two correct answers were submitted this month, and ERIKA DAILEDA of Torrance, California, won the drawing. We thank Jim Royle of San Diego, California, for submitting the picture.
Correct answers were submitted by:
WINNER:
Erika Daileda, Torrance, CA; Donna Peterson, Patch Grove, WI.
---