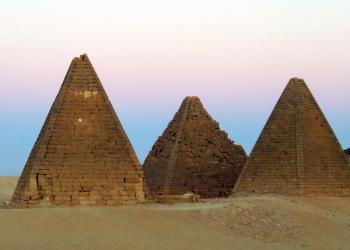 The pyramids of Meroë, a UNESCO World Heritage Site located nearly 250 miles north of Khartoum, the capital of Sudan, were pictured in our September mystery photo. Near the town of Karima, the pyramids are situated along the eastern bank of the Nile, where Nubian kings once ruled the Kingdom of Kush, c. 750 BC-AD 350.
Centuries of erosion have damaged the pyramids and other structures, among which were several royal pyramids, 13 temples and three palaces. Inscriptions found in the temples and palaces at Meroë, along with ancient burial mounds in and around the nearby 300-foot-tall sandstone mountain Gebel Barkal, are representative of the Napatan and Meroitic cultures, spanning the years 2700 BC to AD 350.
Thirty-seven correct answers were submitted, and DONNA PETERSON of Patch Grove, Wisconsin, won the drawing. We thank Helga Smith of New York, New York, for submitting the picture.
Correct answers were submitted by:
Peter Basto, Newton, NJ; Shirley Becker, Skokie, IL; Mike Brandt, El Dorado Hills, CA; Michael Anthony Chrusciel, Riverview, MI; Maria Cueto, Weehawken, NJ; Carla De Went, Grandville, MI; Mike & Yvonne Dixon, Washington, D.C.; Patricia Fwyer, Watertown, CT; Janice Gay, Vero Beach, FL; Helen Gigliotti, Sanger, CA; Brooks Goddard, Needham, MA; Beverly Green, Greeley, CO; Joy Hafner, Brooklyn, NY; Signe Haugen, San Carlos, CA; Magali V. Hinojosa, Laredo, TX; Samuel Leon Hochman, Ft. Lauderdale, FL; Jane & Clyde Holt, Hinesburg, VT; Karyn Kandell, Kyoto, Japan; Sarah Kirtland, New York, NY; Jason Kornmueller, Lake Forest, CA; Mary Lao, San Francisco, CA; Allan Little III, Atlanta, GA; Earl Mack, San Ramon, CA; Hazel C. Moss, St. Helens, OR; Arlene Obetts, Rockford, MI; Patricia Ove, Aurora, CO; Arne Pedersen, Little Silver, NJ;
WINNER:
Donna Peterson, Patch Grove, WI; Raymond Prince, Maple Valley, WA; Jim Randall, Sequim, WA; Marcia Ritter, St. Louis, MO; Pam Ross, Louisville, KY; Jean Rusk, Park City, UT; C.T. (Samantha) Sartain, Colorado Springs, CO; Ed Schlenk, Marshalltown, IA; Mary Schmidt, Fairfax, VA; Regine Schumacher, Seal Beach, CA.
---