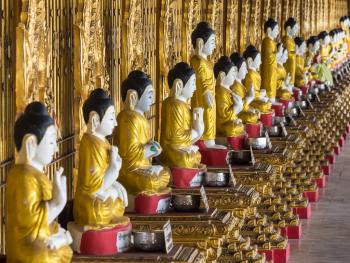 Tucked behind the 216-foot-long reclining Buddha at the Chaukhtatgyi Buddha Temple in Yangon, Myanmar, is a row of 33 smaller statues, each one demonstrating a different
mudra
(hand position) used by the Buddha. Many were pictured here in the May 2018 issue.
Construction of the original large Buddha was sponsored by a wealthy Burmese Buddhist (U Po Tha) in 1899. After its completion in 1907, however, it was decided that the statue's face appeared aggressive, so the image was destroyed in the 1950s and work began on a new image. The new statue was consecrated in 1973.
Six correct answers were submitted this month, and CLARK MASTERS of Westborough, Massachusetts, won the drawing. We thank George Anderson of Minneapolis, Minnesota, for submitting the picture.
Correct answers were submitted by:
Trixie Bentley, Los Gatos, CA; Jane & Clyde Holt, Hinesburg, VT;
WINNER:
Clark Masters, Westborough, MA; Audrey Moore, Naples, FL; Raymond Prince, Maple Valley, WA; Barbara Ryan, Naples, FL.
---