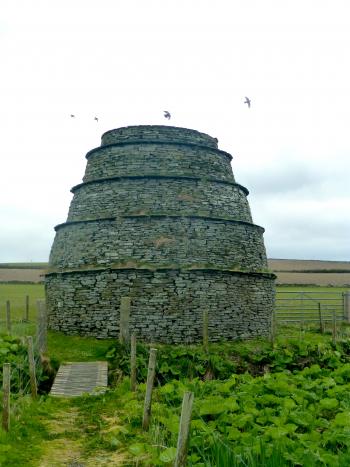 Nearly four centuries ago, in 1648, to be exact, a structure for birds was built for the lairds of the Hall of Rendall on The Mainland, which is the main island of Orkney, off the northeastern shore of Scotland. The location of the beehive-shaped structure, known as the Rendall Doocot and pictured in our February 2018 issue, was the challenge.
Young pigeons were considered a delicacy in ancient Rome, and the dovecotes housing them were a common sight. Centuries later, the Normans introduced dovecotes (doocots) to Britain. The Rendall Doocot's beehive or wedding-cake shape sets it apart from others in the area, since most are rectangular with lean-to roofs.
Five correct answers were submitted, and JANE B. and CLYDE F. HOLT of Hinesburg, Vermont, won the drawing. We thank Gordon Kitchens of Atlanta, Georgia, for submitting the picture.
Correct answers were submitted by:
WINNER:
Jane & Clyde Holt, Hinesburg, VT; Donna Peterson, Patch Grove, WI; Raymond Prince, Maple Valley, WA; Pamela Ross, Louisville, KY; Mary Schmidt, Fairfax, VA.
---