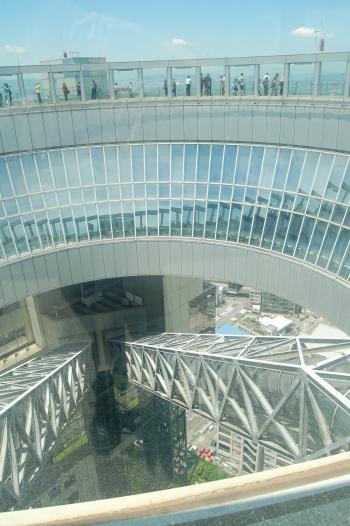 Visitors to the site pictured in our February-issue mystery photo are rewarded with a 360-degree view of Osaka, Japan, and a panorama of Osaka Bay. To get to the deck offering that view, and back down, requires a long escalator ride inside each of two (now translucent) glass-enclosed escalators inside the Umeda Sky Building.
Sitting at a height of 550 feet, the circular deck connects the two 40-story towers of the Sky Building, crossing a wide, atrium-like space. Among other attractions of the building are the rooftop Floating Garden Observatory, a gourmet market in the basement and, at the base of the towers, an urban garden featuring flowers, walking trails and a waterfall.
Japanese architect Hiroshi Hara designed the 568-foot-tall building, and construction was completed in 1993.
Thirteen correct answers were submitted, and JAMES STEFAN of Sarasota, Florida, won the drawing. ITN Editor David Tykol took the photo.
Correct answers were submitted by:
Signe Haugen, San Carlos, CA; Jane & Clyde Holt, Hinesburg, VT; Karyn Kandell, Kyoto, Japan; Janet Landfried, Redlands, CA; Phil Lutzi, St. Pete Beach, FL; Ron Merlo, Glendale, CA; Donna Peterson, Patch Grove, WI; Raymond Prince, Maple Valley, WA; David Roed, Hermosa Beach, CA;
WINNER:
James Stefan, Sarasota, FL; Mike Stooke, O'Fallon, IL; Lynn Tam, Waipahu, HI; Jonathan van Bilsen, Port Perry, ON, Canada.
---