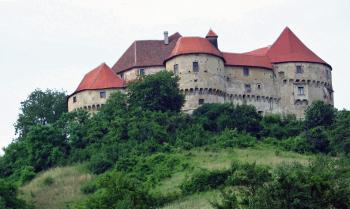 Including elements of Late Gothic and Renaissance architecture, the structure shown in our May mystery photo is a fort that has stood atop Mt. Hum Košnički in northwestern Croatia since the mid-15th century. Known as Veliki Tabor, the fort/castle is situated nearly 1,100 feet above sea level, providing views that stretch as far as Slovenia.
In the 18th century, the fort's four towers were converted into space for housing. During World War I, Veliki Tabor served as a prison. Subsequently, it was consigned to nuns and later used as a warehouse. In the late 1980s, the whole place was revitalized, with activities held there such as falconry and knight tournaments. In 2003, a museums organization took over, with financing from the Croatian Ministry of Culture.
Ten correct answers were submitted, and MARIA CUETO of Weehawken, New Jersey, won the drawing. We thank Pat Minami of Brookeville, Maryland, for submitting the picture.
Correct answers were submitted by:
Cynthia Anchondo, Moreno Valley, CA;
WINNER:
Maria Cueto, Weehawken, NJ; Signe Haugen, San Carlos, CA; Jane & Clyde Holt, Hinesburg, VT; Karyn Kandell, Kyoto, Japan; Margo Mata, Carlsbad, CA; Raymond Prince, Maple Valley, WA; Gladys Sheldon, Oconomowoc, WI; Jill Sullivan, Waynesboro, VA; Jonathan van Bilsen, Port Perry, ON, Canada.
---