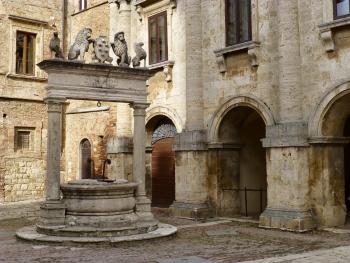 Almost 500 years ago, in 1520, Renaissance architect Antonio da Sangallo (Sangallo the Elder) built the structure shown in our August mystery photo. Sometimes referred to as a fountain, the well is called Il Pozzo dei Grifi e dei Leoni (the Well of the Griffins and Lions), and it can be found in the Tuscan town of Montepulciano, central Italy.
Located in the Piazza Grande, the well is situated between the Palazzo Nobili Tarugi and the Palazzo del Capitano del Popolo. Two stone lions sitting atop it hold the Medici coat of arms.
Twenty-four correct answers were submitted naming the location shown in our August mystery photo, and MICHAEL BRANDT of El Dorado Hills, California, won the drawing. We thank Gordon Kitchens of Atlanta, Georgia, for submitting the photo.
Correct answers were submitted by: Nanci Alexander, Lexington, KY; Cynthia Anchondo, Moreno Valley, CA; Vince Anderson, Tempe, AZ; Svetlana Bogorad, Cherry Hill, NJ;
WINNER:
Michael Brandt, El Dorado Hills, CA; Cathy Briner, Eugene, OR; Maria Cueto, Weehawken, NJ; Willis Frick, San Clemente, CA; Signe Haugen, San Carlos, CA; Jane & Clyde Holt, Hinesburg, VT; Karyn Kandell, Kyoto, Japan; George C. Kingston, East Longmeadow, MA; Rick Madden, Frisco, TX; Bill Mainar, Paris, TX; Barbara McMahon, Williamsburg, VA; Margaret Norman, Gurnee, IL; Carol Peim, Hedersonvile, NC; Donna Peterson, Patch Grove, WI; Raymond Prince, Maple Valley, WA; Marcia Ritter, St. Louis, MO; Mary Schmidt, Fairfax, VA; Gladys Sheldon, Oconomowoc, WI; Jonathan van Bilsen, Port Perry, ON, Canada; Charles Zahn, San Diego, CA.
---