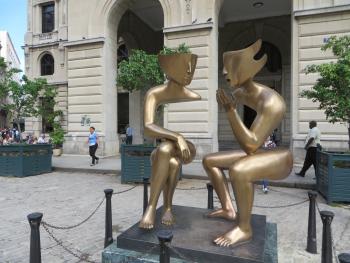 In Cuba, Old Havana saw a new addition to its Plaza de San Francisco de Asís in May 2012. The bronze abstract statue seen in the September mystery photo portrays two people having a conversation. Mounted on a marble slab, "La Conversación" was created by French sculptor Etienne and donated to the city by Havana's French ambassador, Vittorio Perrota.
The missing portions of the bodies are said to represent the need to "read between the lines" when talking with others, not to mention the importance of communicating face to face instead of through social media or texting.
Twenty-three correct answers were submitted naming the location shown in our September mystery photo, and EUGENE ADELMANN of St. Louis, Missouri, won the drawing. We thank Skip Carpenter of Coronado, California, for submitting the photo.
Correct answers were submitted by:
WINNER:
Eugene Adelmann, St. Louis, MO; Antoinette Anderson, Carson, CA; Bobbi Benson, Burlingame, CA; BJ Bjorklund, Frisco, TX; Maria Cueto, Weehawken, NJ; John C. Deppman, Fort Myers, FL; Barbara L. Fenby, Marlborough, MA; Elizabeth Hamel, Monroeville, PA; Joan Hollis, Torrance, CA; Jane & Clyde Holt, Hinesburg, VT; Melanie Jones, Cathedral City, CA; Karyn Kandell, Kyoto, Japan; Beth Klob, La Junta, CO; William A. Lang, Tucson, AZ; Phil Lutzi, St. Pete Beach, FL; David J. Patten, St. Petersburg, FL; Carol Peim, Hendersonville, NC; Donna Peterson, Patch Grove, WI; Raymond Prince, Maple Valley, WA; Lyn Scanlon, Naples, FL; Mary Schmidt, Fairfax, VA; Louise Talley, Wauna, WA; John Williamson, Beavercreek, OH.
---