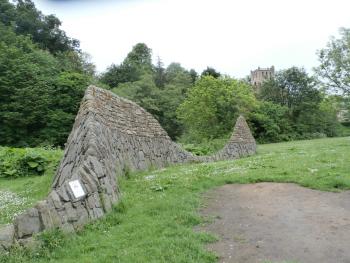 In May 2006 in southern Scotland, a serpentine-shaped sculpture was unveiled honoring the work of the scientist James Hutton, aka "the father of geology." Titled "The Eel," the sculpture represents Hutton's Unconformity, the rock formation at eastern Scotland's Siccar Point that inspired Hutton's revolutionary theories about the age of the Earth.
(One of several sites so labeled, the Siccar Point site comprises folded bands of vertical 435-million-year-old graywacke (a type of sandstone) overlain "unconformably" by layers of 370-million-year-old horizontal layers of red sandstone.)
Standing in Lothian Park in the town of Jedburgh, the 40-foot-long, 9-foot-high dry-stone sculpture was made from whinstone topped with sandstone by Scottish sculptor Max Nowell.
Three correct answers were submitted naming the location shown in our July mystery photo, and CYNTHIA ANCHONDO of Moreno Valley, California, won the drawing. We thank Brita Bishop of Dallas, Texas, for submitting the picture.
Correct answers were submitted by:
WINNER:
Cynthia Anchondo, Moreno Valley, CA; Jane & Clyde Holt, Hinesburg, VT; Karyn Kandell, Kyoto, Japan.
---