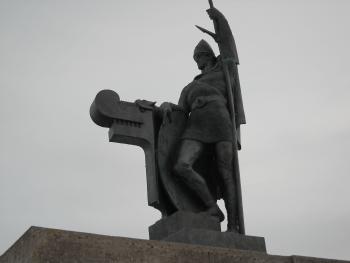 Recognized as one of the first permanent Norse settlers of Reykjavík, Iceland, Ingólfur Arnarson is believed to have settled on the west coast of Iceland in 874, along with his wife and foster brother. In commemoration of Ingólfur's position as one of Reykjavík's founders, a bronze statue of him — pictured in the mystery photo in our April 2019 issue — was erected in the city in 1924.
For a brief period of time, Ingólfur was the legal owner of the southwestern portion of the island. Eventually, he donated or sold much of the land to Scandinavian colonists during what has been termed the Viking Age (late 8th to mid 11th centuries).
Near the center of Reykjavik, the statue of Ingólfur is located on the knoll Arnarhóll, on the eastern end of the Old Harbour.
Twenty-eight correct answers were submitted, and E. Marlin Causey of Marietta, Georgia, won the drawing. We thank Diane Harrison of Chesterfield, Missouri, for submitting the picture.
Correct answers were submitted by:
Cynthia Anchondo, Moreno Valley, CA;
WINNER:
E. Marlin Causey, Marietta, GA; Michael Anthony Chrusciel, Riverview, MI; Maria Cueto, Weehawken, NJ; Steve Flexer, Gig Harbor, WA; Carla Gale, Denver, CO; Signe Haugen, San Carlos, CA; Stephen Jeffries, Centennial, CO; Anne Jinks, St. Clair Shores, MI; Andrea Jones, San Francisco, CA; Karyn Kandell, Kyoto, Japan; George C. Kingston, East Longmeadow, MA; Gert Kipnis, Tucker, GA; Thomas E. Lahmon, Anaheim, CA; Phil Lutzi, St. Pete Beach, FL; Earl Mack, San Ramon, CA; Carol Peim, Hendersonville, NC; Sandra L. Pelletier, Capay, CA; Donna Peterson, Patch Grove, WI; Raymond Prince, Maple Valley, WA; Marcia Ritter, St. Louis, MO; Pam Ross, Louisville, KY; Mary Schmidt, Fairfax, VA; Gladys Sheldon, Oconomowoc, WI; Peter Smith, Streamwood, IL; John Stern, Los Angeles, CA; Karen Swenson, South Huntington, NY; Jean Woltjer, Holland, MI.
---