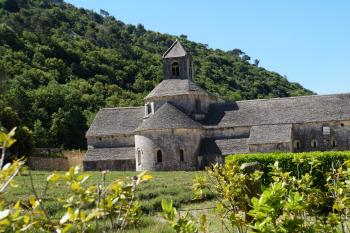 Founded in 1148 by Cistercian monks, the Sénanque Abbey (Abbaye Notre-Dame de Sénanque) was the fourth Cistercian abbey founded in Provence, France. The abbey is the building pictured in our November mystery photo.
Other structures at the site were built over the next few centuries, most during the 13th and 14th centuries. During that time, the abbey operated four mills, seven granges and large estates in Provence. The lands were auctioned off during the French Revolution and, for a time, used as a farm. The French government bought the land in 1846, but serious renovation of the buildings didn't start until the 1990s.
Twenty-two correct answers were submitted naming the location shown in our November mystery photo, and TIMOTHY SLATER of New Orleans, Louisiana, won the drawing. We thank Nanci Alexander of Lexington, Kentucky, for submitting the photo.
Correct answers were submitted by:
Bill Bittner, Lake Worth, FL; Judith & Chet Bowie, Kaneohe, HI; Cathy Briner, Eugene, OR; Mary Carlson, Mission Viejo, CA; Michael Chrusciel, Riverview, MI; Maria Cueto, Weehawken, NJ; Greg Duckworth, Charlotte, NC; Rita K. Fisher, Des Moines, IA; Brinda Gala, Johnson City, TN; Benjamin Glick, Naples, FL; John Haseman, Grand Junction, CO; Karyn Kandell, Kyoto, Japan; Allan Little III, Atlanta, GA; Margaret Norman, Gurnee, IL; Ron Oakham, Phoenix, AZ; Robert Ono, Davis, CA; Raymond Prince, Maple Valley, WA; Mary Schmidt, Fairfax, VA;
WINNER:
Timothy Slater, New Orleans, LA; Martha Sternitzke, New Orleans, LA; Jonathan van Bilsen, Port Perry, ON, Canada; Jim Wenck, Carlsbad, CA.
---