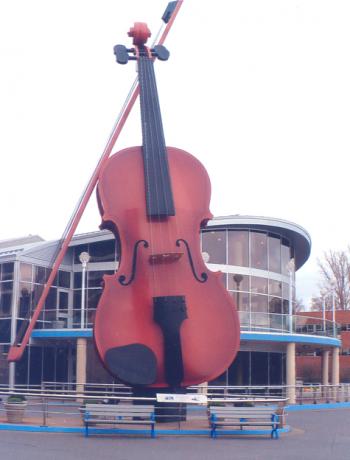 Any attraction referred to as "world's largest" is likely to be at least a little bit famous, so it's no wonder so many of our readers correctly named the location in our February mystery photo.
What is believed to be the world's largest illuminated fiddle stands on the waterfront next to the Joan Harriss Cruise Pavilion in Sydney, on Cape Breton Island, Nova Scotia, Canada. Designed by Sydney artist Cyril Hearn, the 60-foot-tall, solid-steel fiddle was unveiled in January 2005.
In honor of the area's Celtic community, the fiddle was officially named Fidheal Mhor A' Ceilidh, or Big Fiddle of the Ceilidh. (Ceilidh is Gaelic for "social visit.")
Seventy-four correct answers were submitted naming the location shown in the February photo, and MARVIN SOFFER of Boynton Beach, Florida, won the drawing. We thank Susan Darsey of La Selva Beach, California, for submitting the photo.
Correct answers were submitted by:
Eugene Adelmann, St. Louis, MO; Lynn Boreson, Madison, WI; Lucyna Boyle, Mesa, AZ; Mark A. Brown & Cathy Wooley-Brown, Brandon, FL; Mary Carlson, Mission Viejo, CA; Anna Causey, Marietta, GA; Jill Cohen, Stony Brook, NY; Maria Cueto, Weehawken, NJ; Patricia de la Cuesta, Redondo Beach, CA; John C. Deppman, Fort Myers, FL; Donald Eager, San Jose, CA; Diane Powell Ferguson, Scottsdale, AZ; Patricia Fickess, Fresno, CA; Amelia Finan, Annapolis, MD; Linda Fornelli, Carlsbad, CA; Mary Lou Fournier, Oro Valley, AZ; Willis Frick, San Clemente, CA; Charmaine Furman, Palo Alto, CA; Judy Garrett, Rochester Hills, MI; Russell Gluck, Franklin Lakes, NJ; Ken Gould, Clearwater, FL; Jane A. Green, Montvale, NJ; Cheri Guariglia, Pompano Beach, FL; S. Hains, Austin, TX; Lynn Harris, Plano, TX; Signe Haugen, San Carlos, CA; Jim Hinkle, Alameda, CA; Jane & Clyde Holt, Hinesburg, VT; Kembell Huyke, Flushing, NY; Stephen Jeffries, Centennial, CO; Karyn Kandell, Kyoto, Japan; Beryl Kay, San Francisco, CA; George C. Kingston, East Longmeadow, MA; Gert Kipnis, Tucker, GA; Judee Kline, Cecil, WI; Jason Kornmueller, Lake Forest, CA; George O. Lange, San Diego, CA; Mary Lao, San Francisco, CA; George Lauscher, Pocono Summit, PA; Vince Liggio, Norwalk, CT; John Lucas, Richmond, VA; John Maas, Raleigh, NC; Earl Mack, San Ramon, CA; Sharon A. Mazurek, Grosse Pointe Woods, MI; Barbara McMahon, Williamsburg, VA; Pat McMindes, Plano, TX; Robert Morton, St. Louis, MO; Jack Moss, Flowery Branch, GA; Barry & Ann Muhs, Rochester, NY; Dave Netzer, West Barnstable, MA; Margaret Norman, Gurnee, IL; David O'Donnell, Sacramento, CA; Sari E. Oosta, Owens Cross Roads, AL; Carol Peim, Hendersonville, NC; Glenn Peterson, Carlsbad, CA; Beth Podol, El Paso, TX; Betty Podol, Reston, VA; Raymond Prince, Maple Valley, WA; Robert Quillin, Centennial, CO; Deb Riley, De Pere, WI; Marcia Ritter, St. Louis, MO; Pam Ross, Louisville, KY; Wanda Ross, Tucson, AZ; Barbara Ryan, Naples, FL; Lorenz Rychner, Denver, CO; Mary Schmidt, Fairfax, VA; Gladys Sheldon, Oconomowoc, WI; Charles Shelleman, Arlington, VA; James Smith, Gilbert, AZ;
WINNER:
Marvin Soffer, Boynton Beach, FL; Shawn Sweeney, Santa Fe, NM; Ken Turja, Indialantic, FL; John Weiss, Canton, CT; Phil Youngberg, Dunwoody, GA.
---