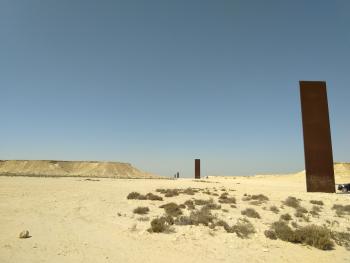 Visitors to Qatar's Brouq Nature Reserve who have seen "2001: A Space Odyssey" may be surprised to see something resembling the huge obelisk that appears in the 1968 film. However, the Qatar sculpture includes four "obelisks," not just one. All four are visible in our September mystery photo.
Erected in 2014 and spanning a distance of about one kilometer, the 4-part sculpture known as "EAST-WEST/WEST-EAST" is made up of 4-inch-thick steel plates that stand between 48 and 55 feet high. Despite the differences in height, artist Richard Serra ensured that the tops of the plates would be level with each other, allowing for differences in topography. At the tip of the Zekreet Peninsula, the reserve is located about 45 miles of the country's capital, Doha — a 1- or 1½-hour drive away.
Ten correct answers were submitted naming the location shown in the picture in the September 2020 issue, and CAROL PEIM of Hendersonville, North Carolina, won the drawing. We thank Lucyna Boyle of Mesa, Arizona, for submitting the photo.
Correct answers were submitted by:
Joan Barrett, Tucson, AZ; Maria Cueto, Weehawken, NJ; Sherryl Frisch, Wimauma, FL; Jane & Clyde Holt, Hinesburg, VT; Karyn Kandell, Kyoto, Japan; Phil Lutzi, St. Pete Beach, FL;
WINNER:
Carol Peim, Hendersonville, NC; Raymond Prince, Maple Valley, WA; Eileen Schattner, Alhambra, CA; Jennifer Schultz, Northbrook, IL.
---