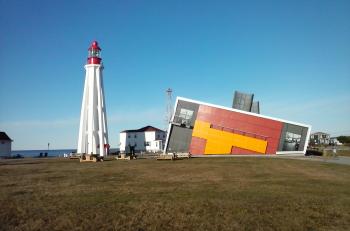 Just two years after the sinking of the
Titanic
, another maritime disaster, one that took the lives of more than 1,000 passengers, occurred near the mouth of the St. Lawrence River in northeastern Canada. On May 29, 1914, the RMS
Empress of Ireland
collided with a Norwegian ship, the SS
Storstad
, and sank within 14 minutes.
In commemoration, the Empress of Ireland Pavilion, designed to resemble a sinking ship, was built at the Pointe-au-Pere Maritime Historic Site near Rimouski, Québec, and opened in 2000. More than 200 artifacts from the wreck are displayed in the museum, along with photos and written accounts from passengers and their descendants. Visitors also can experience a multimedia show called "The Last Journey."
Ten correct answers were submitted naming the location shown in the March photo, and PAMELA ROSS of Louisville, Kentucky, won the drawing. We thank Marilyn Jestes of Roulette, Pennsylvania, for submitting the photo.
Correct answers were submitted by:
Maria Cueto, Weehawken, NJ; Jane & Clyde Holt, Hinesburg, VT; Karyn Kandell, Kyoto, Japan; Graham C. Miller, Alhambra, CA; Ardith Ortgies, Des Moines, IA; Carol Peim, Hendersonville, NC; Donna Peterson, Patch Grove, WI; Raymond Prince, Maple Valley, WA;
WINNER:
Pamela Ross, Louisville, KY; Mary Schmidt, Fairfax, VA.
---