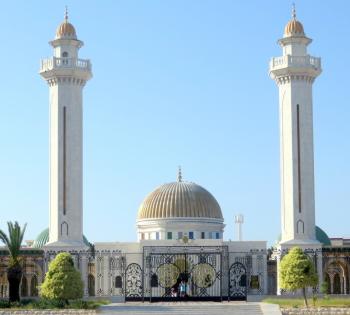 The eventual occupant of the mausoleum pictured in our July mystery photo was still alive at the time it was completed in 1963. In fact, Habib Bourguiba, president of Tunisia from 1957 to 1987, lived until April 2000. Flanked by two 82-foot-tall minarets, the mausoleum — located on the western side of the Sidi el-Mézeri cemetery in the former president's hometown of Monastir — is topped by a gilded dome that sits between two green domes.
Bourguiba is often referred to as the "father of Tunisian independence." During his presidency, a legal minimum age for marriage was established, and women were given the right to be educated, vote and hold public office.
Ten correct answers were submitted naming the location shown in the picture, and ARNE PEDERSEN of Little Silver, New Jersey, won the drawing. We thank Helga Smith of New York, New York, for submitting the photo.
Correct answers were submitted by:
Maria Cueto, Weehawken, NJ; James Hansen, Weeki Wachee, FL; Jane & Clyde Holt, Hinesburg, VT; Karyn Kandell, Kyoto, Japan;
WINNER:
Arne Pedersen, Little Silver, NJ; Donna Peterson, Patch Grove, WI; Raymond Prince, Maple Valley, WA; Karen Schaeffer, Tigard, OR; Eileen Schattner, Alhambra, CA; Jill Sullivan, Waynesboro, VA.
---