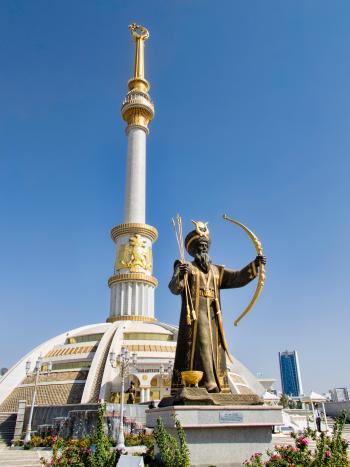 The structure shown in our April 2020 mystery photo is something that is seen by virtually everyone visiting Ashgabat, the capital of the Central Asian country of Turkmenistan. Sometimes referred to as "The Plunger," the Monument to the Independence of Turkmenistan is 299 feet tall. Saparmurat Atayevich Niyazov, who ruled the country until his death in December 2006, ordered the monument's construction, which began in August 2006. (The country's date of independence was Oct. 27, 1991.)
The monument is surrounded by 27 gold-plated statues. The statue shown in the foreground of April's picture depicts Oguz Khan, a mythical figure usually considered to be the founder of the Turkmen people.
Fifty-eight correct answers were submitted naming the location shown in the photo, and STEVEN CLIFT of North Little Rock, Arkansas, won the drawing. We thank Dan Lundberg of North Miami, Florida, for submitting the photo.
Correct answers were submitted by:
Lucyna Boyle, Mesa, AZ; Michael Brandt, El Dorado Hills, CA; Debra Brown, Malvern, OH; Bob Canepa, Mill Valley, CA; Michael Chrusciel, Riverview, MI;
WINNER:
Steven A. Clift, North Little Rock, AR; Maria Cueto, Weehawken, NJ; Erika Daileda, Torrance, CA; John Deppman, Fort Myers, FL; David Eickhoff, Burton, TX; Sandy & Jim Farrell, Fort Worth, TX; William Fitzgerald, Torrance, CA; Willis Frick, San Clemente, CA; Willis Frick, San Clemente, CA; Loren Gardner, San Diego, CA; Stanley Gorcik, Buffalo Grove, IL; Susan Greek, Corona, CA; Brice Harris, Pasadena, CA; Signe Haugen, San Carlos, CA; Jane & Clyde Holt, Hinesburg, VT; Doranne Jacobson, Springfield, IL; Stephen Jeffries, Centennial, CO; Andrea Jones, San Francisco, CA; Karyn Kandell, Kyoto, Japan; Margaret Kilgore, Sharpsburg, GA; George C. Kingston, East Longmeadow, MA; Susan Kipp, Oyster Bay, NY; Sarah Kirtland, New York, NY; Kathryn Kostrub, Landisville, PA; Fred Kranz, Potomac, MD; Mary Lao, San Francisco, CA; Phil Lutzi, St. Pete Beach, FL; Greg Mannion, Fountain Hills, AZ; William B. Mason, Jr., Tampa, FL; Bennetta McLaughlin, Dallas, TX; Ron Merlo, Glendale, CA; Margaret Norman, Gurnee, IL; Tom O'Hara, San Luis Obispo, CA; David J. Patten, St. Petersburg, FL; Carol Peim, Hendersonville, NC; Donna Peterson, Patch Grove, WI; Raymond Prince, Maple Valley, WA; Marcia Ritter, St. Louis, MO; Pam Ross, Louisville, KY; Tricia Schierman, Richland, WA; Mary Schmidt, Fairfax, VA; Rick Sinding, Princeton, NJ; Yvette Wigman-Childers, Honolulu, HI; Steven Zhong, South San Francisco, CA; Margaret J. Zimmerman, Austin, TX.
---