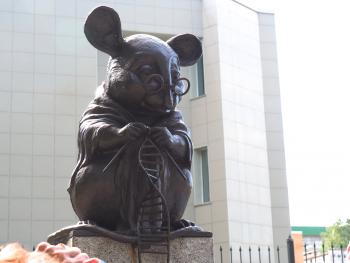 One hundred and twenty years after the founding of the city of Novosibirsk in Siberia, Russia, a bronze statue of a mouse appeared in front of the city's Institute of Cytology & Genetics. At first glance, the spectacled mouse might be mistaken for a cartoon character, but the sculpture is actually a monument to all animals who have given their lives in the name of science.
The "knitting project" in the 28-inch-tall mouse's hands is a double helix strand of DNA. Including the pedestal on which the sculpture stands, the monument stands slightly over 8 feet tall.
Artist Andrey Kharkevich, who created the statue, said the "images of a laboratory mouse and a scientist are combined because they are connected to each other and serve one cause."
Fifty correct answers were submitted naming the location shown in the picture in the October 2020 issue, and RUSSELL GLUCK of Franklin Lakes, New Jersey, won the drawing. We thank Alan Lichtenstein of Commack, New York, for submitting the photo.
Correct answers were submitted by:
Ralph Barrett, Knoxville, TN; Lucyna Boyle, Mesa, AZ; Connie Branch, Evansville, IN; Cathy Briner, Eugene, OR; Mary Carlson, Mission Viejo, CA; Dale & Janet Chitwood, Leesburg, FL; John Cogswell, Powell River, BC, Canada; Bonnie Cosgrove, San Diego, CA; Maria Cueto, Weehawken, NJ; Anne Ellison, Champaign, IL; Barbara L. Fenby, Marlborough, MA; Sherryl Frisch, Wimauma, FL; Deborah Futch, Winter Haven, FL; Janice Gay, Vero Beach, FL;
WINNER:
Russell Gluck, Franklin Lakes, NJ; Kenneth Gould, Clearwater, FL; Gwyn Groves, Barrington, RI; Thomasina Gurule, Jamestown, TN; Michelle Hale, Mechanicsburg, PA; Signe Haugen, San Carlos, CA; Jane & Clyde Holt, Hinesburg, VT; Hal Howard, Portland, OR; Stephen Jeffries, Centennial, CO; Andrea Jones, San Francisco, CA; Karyn Kandell, Kyoto, Japan; Stan C. Kimer, Raleigh, NC; Jason Kornmueller, Lake Forest, CA; Mary Lao, San Francisco, CA; James Libby, Sun Lakes, AZ; Earl Mack, San Ramon, CA; Greg Mannion, Fountain Hills, AZ; Robert Morton, St. Louis, MO; Viki Nedrow, Chelan, WA; Margaret Norman, Gurnee, IL; Elaine Novak, Sacramento, CA; Carol Peim, Hendersonville, NC; Raymond Prince, Maple Valley, CA; Paul Ranelli, Duluth, MN; Carolyn Rawles, Corvallis, OR; Marcia Reynolds, Orange, CA; Gail Riba, Wimauma, FL; Marcia Ritter, St. Louis, MO; Pamela Ross, Louisville, KY; Eileen Schattner, Alhambra, CA; Jennifer Schultz, Northbrook, IL; Gladys Sheldon, Oconomowoc, WI; Teresa Thorpe, McKinney, TX; Jonathan van Bilsen, Port Perry, ON, Canada; Paula Varner, Tacoma, WA; Karen Wagner, Monarch Beach, CA.
---