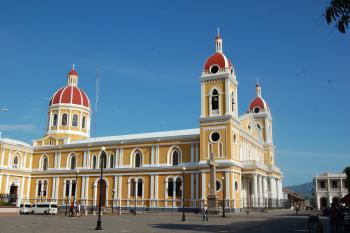 According to some sources, the first version of Our Lady of the Assumption Cathedral (the subject of our January mystery photo), located in Granada, Nicaragua, was built almost 500 years ago, in 1525. Despite its having suffered fires twice by 1578 (the original building included a straw roof), it became known as La Iglesia Bonita (The Beautiful Church). It wasn't until 1751 that the structure was rebuilt with more durable materials: stone and and brick.
In 1856, the church was completely destroyed by American-born mercenary William Walker. In 1915, three years after the Roman Catholic Church created the Diocese of Granada, the church was rebuilt, its central dome now with an iron frame. In 1972, the yellow-and-white Spanish-colonial structure would reach its full measure, almost 39,000 square feet.
Twenty-one correct answers were submitted naming the location shown in the January photo, and PIOTR KUMELOWSKI of Forest Hills, New York, won the drawing. We thank Jim Simpson of Glen Mills, Pennsylvania, for submitting the photo.
Correct answers were submitted by:
Michael Brandt, El Dorado Hills, CA; Jose N. Cruz, San Antonio, TX; Juanjo Cuenca, Hollywood, FL; Marcia Cueto, Weehawken, NJ; Signe Haugen, San Carlos, CA; Robert Havlen, Albuquerque, NM; Jane & Clyde Holt, Hinesburg, VT; David Jack, Modesto, CA; Karyn Kandell, Kyoto, Japan;
WINNER:
Piotr Kumelowski, Forest Hills, NY; William B. Mason, Jr., Memphis, TN; Peggy Nute, Palo Alto, CA; Arne Pedersen, Little Silver, NJ; Donna Peterson, Patch Grove, WI; Raymond Prince, Maple Valley, WA; Robert H. Rhoads, Sullivan, MO; Pamela Ross, Louisville, KY; Karen Schaeffer, Tigard, OR; Mary Schmidt, Fairfax, VA; Helga Smith, New York, NY; Linda Tabb, Champaign, IL.
---